markets
Fed Signals Cautious Optimism and Support for Higher Rates
By
FOMC still worried about misses of 2 percent inflation target

Powell to be sworn in as Fed chair Feb. 5, succeeding Yellen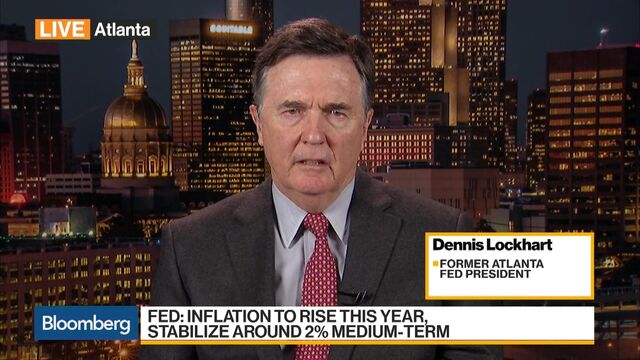 Janet Yellen spent most of her four years as Federal Reserve chair as a dove but ended her term on a hawkish note, building the case for further interest-rate increases at her final policy meeting before handing over to Jerome Powell.
While leaving rates unchanged, the U.S. central bank said "gains in employment, household spending and business fixed investment have been solid," in a statement on Wednesday that also upgraded the outlook for inflation, paving the way for a hike in March.
Powell will be sworn in as Fed chair on Feb. 5.
Policy makers tweaked the language of the statement to include two references to the word "further" in connection with their outlook for additional gradual rate hikes, which economists said was designed to underscore that rates were headed higher.

"It opens the door to four hikes for them, but I don't think they have walked through it," said Michael Gapen, chief U.S. economist at Barclays Plc in New York. "It closes the door to two hikes."
Fed officials have penciled in three moves this year and investors see more than a 90 percent chance that they will hike at their next meeting of the Federal Open Market Committee, on March 20-21.
"A year ago the statement read 'only gradual increases,' then last March was changed to 'gradual increases,' and today was changed again to 'further gradual increases,"' wrote Michael Feroli, chief U.S. economist for JP Morgan Chase & Co., in a note to clients. "To us, this looks like a progression from restraining expectations for multiple hikes to reinforcing expectations for multiple hikes."
Standout Achievement
Yellen's gradual removal of policy stimulus, in a way that allowed the expansion to continue apace, is likely to be remembered as one of her standout achievements as Fed chair. With inflation below the central bank's 2 percent target for most of the past five years, Yellen exploited the opportunity to further reduce slack in the labor market by keeping rates unusually low as the economic expansion lengthened.
Unemployment was 4.1 percent in December, the lowest level since 2000, and more than two percentage points below the 6.7 percent rate when she became chair in February 2014. Broader measures of under-employment also declined.
Powell now takes the central bank's helm as businesses appear to be increasing investment amid an economic upswing that has broadened to other advanced economies. Higher capital spending could lift productivity and wages, which could boost inflation if companies are able to pass these costs along to customers in the form of higher prices.
"They want to let this run," said Laura Rosner, senior economist and partner at Macropolicy Perspectives LLC in New York. "They have been persistently missing to the downside on inflation, and they want to make sure they don't" continue to do so.
Before it's here, it's on the Bloomberg Terminal.
LEARN MORE