Cohen Leads Wave of Hedge Fund Startups After Year of Retreats
By
Viking alum Dan Sundheim hires ex-White House adviser at D1

Cohen rearms with outside cash as Gelband preps ExodusPoint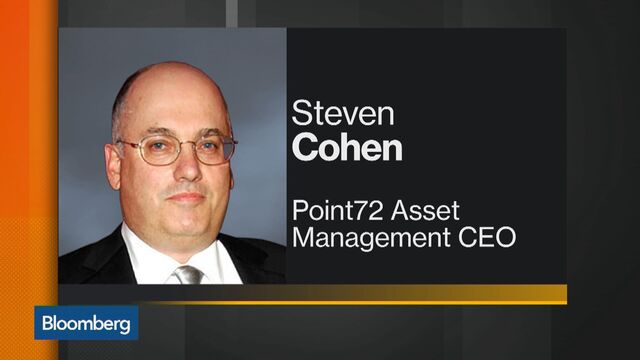 After a cohort of hedge fund veterans called it quits last year, a trio of established managers are prepping to fill their shoes in 2018 by starting firms with at least a billion dollars apiece.
Daniel Sundheim, who until last June was investment chief at Viking Global Investors, Michael Gelband, who about a year ago surprised his boss Izzy Englander by quitting as Millennium Management's head of fixed income, and Steven Cohen, the billionaire who until January was barred from trading client money after his old firm pleaded guilty to securities fraud, plan to roll out their long-anticipated funds.

The startups -- and in the case of Cohen, a comeback -- are attracting attention as the number of traders venturing out on their own has been declining since 2011. Hedge fund managers have been confounded by reduced price swings, while investors have revolted against high-fee funds whose performance has been underwhelming. John Griffin, Eric Mindich and Andy Hall were among those who threw in the towel last year.
"There'll always be senior people leaving to start their own funds but now startups are not just facing competition from other managers but cheaper products such as more liquid alternative risk-premia strategies," said Cedric Fontanille, head of external strategies at Unigestion Holding SA. Risk premia is a type of factor-investing strategy that uses quant models to try to deliver market-beating returns for less money.
'Day One'
Sundheim, whose been managing his own money since leaving Viking, is set to launch his equity hedge fund, D1 Capital Partners, in the second half of the year and hired Jeremy Katz, who was a lieutenant to National Economic Council director Gary Cohn, to help him run it. In naming his New York-based firm, Sundheim took a page from Jeff Bezos whose motto at Amazon.com is "It's always day one." Sundheim, 40, said he expects his fund to have 20 people on his investment team and also plans to invest in private equity.
Read More: Sundheim Taps Ex-White House Economic Adviser for New Hedge Fund
Gelband, 58, once considered Englander's likely successor, has been preparing to start his ExodusPoint Capital Management. The pair had spent a good part of 2017 feuding over whether Gelband could hire former Millennium colleagues and the timing of his fund launch.
Gelband and Englander resolved their dispute in December after arbitration. Gelband plans to start the fund in the first half with longtime colleague Hyung Soon Lee, who had run equities at Millennium. UBS AG and BlackRock Inc. are among the firms considering parking client money with ExodusPoint, according to people with knowledge of the investors.
Spokespeople for the companies declined to comment.
ExodusPoint, based in New York, will bet across multiple markets globally and plans to have more than 20 people involved in making trades. Gelband also hired other former Millennium employees for non-trading roles, including Dev Joneja, Mike Chew and Peter Hornick.
Lower Sights
In Stamford, Connecticut, Cohen has had to lower his sights. His Point72 Asset Management will return to managing client capital this week with $3 billion to $4 billion in outside money, a comedown from the $10 billion upper end that Cohen had been seeking to raise at one point last year. Cohen's SAC Capital Advisors returned about $6 billion to investors in 2013, the year it agreed to pay a $1.8 billion fine as part of a settlement with U.S. authorities.
Point72 has fewer senior money managers trading $1 billion or more, because many of its seasoned people have left the firm in recent years.
Read more: Steve Cohen Returns With New Flavor of Approach He Used at SAC
Marques, Plavnik
Cohen, 61, will manage the new money along with about $11 billion of his own fortune. His firm trades across multiple markets.
About 545 hedge funds started in the first nine months of 2017 -- on pace to roughly match the previous year's 729 startups, according to Hedge Fund Research Inc. That compares with 1,113 funds that sprung up in 2011.
Amid the euphoria that often accompanies new funds, some that launched last year struggled. Ben Melkman, the trader who won backing from Cohen and Dan Loeb for his $1.6 billion Light Sky Macro, was down 10 percent as of late 2017 after starting in March.
Among other startups:
Jose Marques, Bridgewater Associates' former head of trading, is set to launch his Inferent Capital in the first half, according to people with knowledge of his plans. His fund will follow a quantitative strategy and use machine-learning technologies.
Michael Plavnik, Citigroup Inc.'s former global head of liquid foreign-exchange trading, began macro fund Venn Global Macro Advisors in December.
— With assistance by Katherine Burton, Katya Kazakina, Hema Parmar, and Suzy Waite
Before it's here, it's on the Bloomberg Terminal.
LEARN MORE