politics
Candidate for U.S. Ambassador to Seoul Warned Against Targeted Strike
By
Victor Cha says he's longer under consideration for a position

The answer isn't a preventive military strike, Cha writes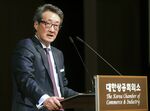 Victor Cha, a former White House offical who had been under consideration to become U.S. ambassador to South Korea, warned in an essay published Wednesday against giving North Korea a "bloody nose" using a targeted military strike on the regime.
"North Korea, if not stopped, will build an arsenal with multiple nuclear missiles meant to threaten the U.S. homeland and blackmail us into abandoning our allies in Asia," Cha wrote in the Washington Post. "But the answer is not, as some Trump administration officials have suggested, a preventive military strike."
The Washington Post reported earlier that Cha, Trump's initial choice for ambassador, was no longer expected to be nominated after privately expressing disagreement in late December with the administration's North Korea policy.
The article also cited a person familiar with the nomination process as saying a flag was raised during Cha's background check, but didn't offer specifics. Cha declined to comment to the Post on that issue, and didn't respond to calls and text messages on Tuesday night.
Cha argued in the op-ed for an alternative strategy of enhanced and sustained international pressure on Pyongyang to denuclearize, saying it is likely to deliver the same potential benefits as a limited strike, without the self-destructive costs.
'A Bit Discouraging'
He proposed a policy platform for the U.S. government:
Continue to strengthen the coalition of United Nations member states it has mustered in its sanctions campaign
Boost alliances with Japan and South Korea with integrated missile defense, intelligence-sharing and anti-submarine warfare and strike capabilities
Build a maritime coalition around North Korea involving rings of South Korean, Japanese and broader U.S. assets
Continue to prepare military options
Cha said in his essay that he relayed some of the views stated above while he was "under consideration for a position in this administration."
Cha is the Korea chair at the Center for Strategic and International Studies in Washington. He was director for Asian affairs on the National Security Council from 2004 to 2007, when he served as deputy head of the U.S. delegation at six-nation talks that sought unsuccessfully to convince North Korea to stop developing nuclear weapons. He's also penned several books about the divided peninsula.
The rejection of Cha is "a bit discouraging for those who were looking for a strategic approach to the U.S.-Korea alliance," said Michael Green, a former member of the U.S. National Security Council staff and now senior vice president for Asia at CSIS.
— With assistance by Nick Wadhams
Before it's here, it's on the Bloomberg Terminal.
LEARN MORE