politics
British Lord Baffles Colleagues, Quits Over Missed Question
By
Bates resigns as minister after arriving late for session

He walks out of House of Lords chamber to cries of 'No!'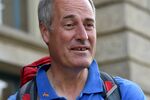 A member of the British House of Lords left colleagues stunned when he resigned from his post as International Development Minister after failing to turn up to answer a question.
Michael Bates had been due to respond to a question from Ruth Lister, a Labour lawmaker in the upper chamber of Parliament, but missed his moment. When he arrived, Bates addressed himself to her.
"During the five years of which it has been my privilege to answer questions from the despatch box on behalf of the government I have always believed we should rise to the highest possible standards of courtesy and respect in responding on behalf of the government to legitimate questions of the legislature," he said. "I am thoroughly ashamed at not being in my place. I therefore shall be offering my resignation."
He then walked from the chamber to cries of "No!" from all sides, while some colleagues reached out to try to stop him. Labour's Angela Smith said later there was no need for him to resign. "An apology from the noble Lords Bates is perfectly sufficient," she said. "It was a minor discourtesy of which any of us could be guilty on occasion."
A few hours later, a statement from May's spokesman said "his resignation was refused as it was judged this was unnecessary."
(
Updates to note that his resignation was rejected.
)
Before it's here, it's on the Bloomberg Terminal.
LEARN MORE