politics
If Tories Want May Gone, Here's How to Do It
By
Power resides with 1922 Committee of so-called backbenchers

48 signatures to trigger a Tory leadership contest in U.K.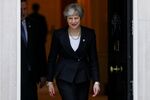 Margaret Thatcher was at a summit in Paris when the tide turned. Once-loyal Cabinet members had betrayed her and within hours it became clear the Iron Lady had lost control of her Conservative Party.
It was a classic when-the-cat's-away example of how Tories can dispose of their leaders. There's a lesson in it for Theresa May, who lands in China as her rank-and-file lawmakers meet to privately vent frustration at her leadership.
Unlike Thatcher's seemingly unassailable reign, May has turned her vulnerability into a strength. Plots to oust her have failed to take off and she's learned to live under the specter of a possible no-confidence vote.
While it's hard to predict when the political calculus keeping her in place will change -- could be a resignation, an angry speech or an unforeseen shock -- it's worth revisiting the process of how May's fall could come about.
It would all kick off in the oak-panelled, neo-gothic splendor of committee room 14 in London's decaying Parliament complex among unhappy members of the so-called 1922 Committee. They meet every Wednesday afternoon (when Parliament is in session).
The group takes its name from a 1922 meeting of Tory lawmakers which called for the end of the party's coalition with the Liberals, bringing down the government of David Lloyd George. The Tories won the ensuing election.
Table-Thumping
Nowadays it serves as a line of communication between the party's leadership -- sat in the front row in the House of Commons -- and the backbenchers. At key moments of political drama, reporters gather outside the committee room to try to judge the mood by the noise of supportive table-thumping inside.
"The executive are a bunch of long-serving MPs who have a very good feel for the mood of the party,'' said Tim Bale, professor of politics at Queen Mary University of London. "They act as a sounding-board and as a safety valve for discontent."
Current chairman of the 1922 Committee Graham Brady, 50, holds the unenviable job of safeguarding letters from disgruntled Tory lawmakers who want May to go. If he receives 48 letters, he is obliged to hold a vote of confidence in her leadership. The current number of missives, which are safely locked away, is never revealed.
Never Tell
"Any stories that purport to know the number of letters that have been received should be treated with extreme caution,'' Brady said in an interview. "Only I would know and I have never breathed a word on the subject to anyone.''
That gives Brady "ultimate power'' over the leader, Bale said. "If he receives a certain number of letters he is compelled to call a confidence vote.''
If the magic number is reached, Brady would inform the premier and his lawmakers and a vote on May's future would be held as soon as possible.
While some Tories are hesitant about rocking an already fragile leader for fear of losing the next election to Jeremy Corbyn's socialist Labour Party, voices calling publicly for her to quit have grown.
The 1922 Committee has long held Conservative leaders to account. During the party's period in opposition in the aftermath of World War II, Tories used the weekly meetings to berate Winston Churchill about his less-than-productive work rate.
Thatcher's demise was prompted by the resignation of her deputy Geoffrey Howe in a dispute over the party's relationship with the European Monetary Union.
During the tenure of her successor, John Major, "The '22'' came to embody the party's opposition to the closer ties with Europe and the prospect of joining the EU's single currency, the euro. In 2003, Tory leader and arch-euroskeptic Iain Duncan Smith was ousted after colleagues submitted a sufficient number of letters to prompt a leadership vote.
On coming to power, David Cameron tried and failed to dilute the influence of the 1922 by proposing to open up its membership. The move backfired, Brady was elected chairman and has held the job ever since.
Before it's here, it's on the Bloomberg Terminal.
LEARN MORE