politics
U.K. Breached EU Law With Internet Spying, Court Rules
By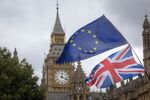 Part of the British government's historic mass interception of emails, text messages and other forms of communication breached European Union law, the U.K. Court of Appeal ruled Tuesday.
The country's controversial Data Retention and Investigatory Powers Act of 2014 improperly allowed the government to collect data for reasons other than serious crime fighting and without a court order, three judges at the London court said.
The case, which was led by opposition Labour lawmaker Tom Watson, is one of a series of court challenges to the government's policies, which seek to collect information on the nation's internet activity and phone records, mainly to prevent terrorist plots. DRIPA was repealed at the end of 2016 and replaced by the Investigatory Powers Act that critics have called "the Snoopers' Charter."
The appeal court decision on a section of the 2014 act follows a ruling by the EU's top judges that said U.K. measures forcing telecommunications companies to keep customer data for a year violate the bloc's laws.
The ruling means that "significant parts" of the U.K.'s Investigatory Powers Act "must be urgently changed," Liberty, a human rights charity that backed Watson, said in an email.
"This judgment tells ministers in crystal clear terms that they are breaching the public's human rights. The latest incarnation of the Snoopers' Charter, the Investigatory Powers Act, must be changed," said Martha Spurrier, Liberty's director, according to an email.
The ruling doesn't change how law enforcement agencies can detect crimes because it relates to a policy that is no longer in force, Security Minister Ben Wallace said in a statement emailed by the Home Office.
"We had already announced that we would be amending the Investigatory Powers Act to address the two areas in which the Court of Appeal has found against the previous data retention regime," he said. "We welcome the fact that the Court of Appeal ruling does not undermine the regime and we will continue to defend these vital powers, which Parliament agreed were necessary in 2016, in ongoing litigation."
The opposition Liberal Democrat party said the government was "tinkering around the edges" of its surveillance laws. "What we need is a full overhaul over the system that puts our freedoms and civil liberties at its very core," Ed Davey, home affairs spokesman for the party, said in an email.
— With assistance by Jeremy Hodges, and Kitty Donaldson
(
Updates from seventh paragraph with government and Liberal Democrat comment.
)
Before it's here, it's on the Bloomberg Terminal.
LEARN MORE