Trader Who Shorted Steinhoff Leaves Capitec Rattled and South Africa Confused
By , , and
Viceroy, triumphant on Steinhoff, says lender conceals losses

Capitec's CEO says report is incorrect as shares plunge, rally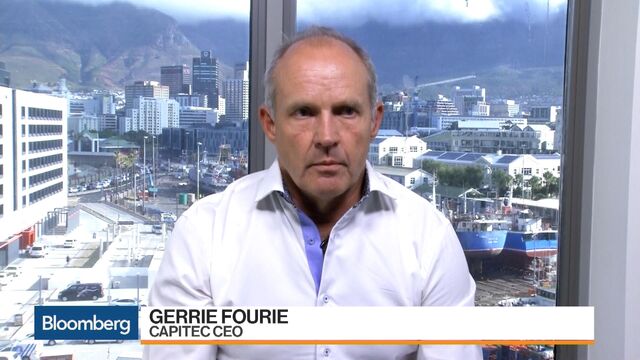 South Africa's best-performing stock of the last decade, Capitec Bank Holdings Ltd., was rattled after a short seller alleged the lender was concealing significant write-offs. The bank denied the allegations and fired back by reporting Viceroy Research to regulators.
Capitec, which makes unsecured loans mainly to low- and middle-income households, posted its biggest-ever intraday share drop on Tuesday. It then recovered most of those losses after South Africa's central bank said it has no evidence to suggest the lender's stability is in question.
Visibly exhausted from a long day of turmoil, Chief Executive Officer Gerrie Fourie met reporters in Cape Town to deny allegations by Viceroy that Capitec may be hiding losses by refinancing defaulted loans with new debt. "We find it very one-sided, and very inaccurate," he said of Viceroy's report on Bloomberg Television.
The drama showed the influence Viceroy wields in the Johannesburg market just a month after its research on accounting irregularities helped contribute to a plunge in Steinhoff International Holdings NV's share price. Global banks have already taken hits on loans tied to the troubled South African retail group since then.
Deposit Funding
Capitec's success in extending credit to poorer South Africans has driven its stock up about 30-fold over a decade. The bank's survival will depend on those customers -- it largely funds itself through their deposits. Fourie said the bank fielded a lot of customer queries on Tuesday, and hadn't seen an abnormal level of withdrawals, without providing specific data.
Investors and analysts following the to-and-fro on Capitec were left perplexed by the accusations, the bank's riposte and the central bank's statement. Viceroy subsequently said on its Twitter account, which isn't verified, that it believes Capitec's data is unreliable, even if the central bank's remarks seem to validate the firm.
Viceroy said Capitec may have to write down its loan book by 11 billion rand ($920 million) -- equivalent to 14 percent of assets -- to "more accurately represent delinquencies and risk."
The short-seller's data "make sense," and the numbers add up, said Adrian Saville, chief strategist at Cannon Asset Managers in Johannesburg. Capitec could have concealed losses, "as the report infers, by issuing new loans to delinquent customers."
Harry Botha, a Cape Town-based analyst at Avior Capital Markets, said it was too early to completely dismiss the short-seller's research, but defended Capitec, saying in a note to clients that Viceroy's analysis of the firm's loan book appeared "flawed." He also said Viceroy inappropriately compared the lender to a previous failure in South African lending -- African Bank Investment Ltd., which was placed in administration in 2014.
Capitec filed a formal complaint to South Africa's Financial Services Board. Fourie said that after analyzing Viceroy's report for hours, his bank doesn't understand how Viceroy came up with the 11-billion-rand figure for potential writedowns.
— With assistance by Loni Prinsloo, Guy Johnson, and Matthew Miller
Before it's here, it's on the Bloomberg Terminal.
LEARN MORE