Beleaguered Och-Ziff Turns to Steady Hand for CEO to Calm Waters
By
Robert Shafir, ex-Credit Suisse veteran, known for stability

Turmoil ensued after Dan Och passed over Jimmy Levin for job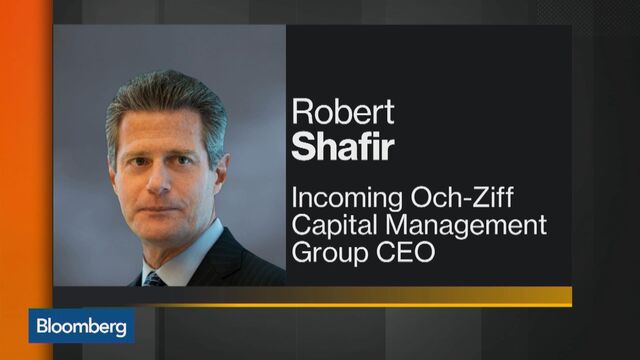 Dan Och is turning to a steady hand and Wall Street banking veteran to guide his $32 billion hedge fund firm through turbulent times.
The founder of Och-Ziff Capital Management Group LLC named Robert Shafir, an outsider from the banking world, to succeed him as chief executive officer. Shafir, whose resume has decades of managerial experience -- including as former CEO of the Americas for Credit Suisse Group AG -- takes over on Feb. 5. Och will continue as chairman through March 2019, the New York-based firm said in a statement Tuesday.
The announcement comes six weeks after Och passed over co-chief investment officer and star trader Jimmy Levin for the job, a controversial move that spurred turmoil at the firm and with the board. At the same time, Och-Ziff has struggled to overcome a corruption scandal that triggered a plunge in assets, and shares of the publicly-traded hedge fund have dwindled to a near-record low.
"He is stability -- that's what he is, he can calm a place down, and everyone will see what he's there for," said Bob Jain, the co-CIO of Millennium Management who worked for Shafir at Credit Suisse. "He'll do the job, and let the guys like Jimmy do their thing, which is make money."
Och told investors in a December letter that he had changed his mind about Levin and would seek a successor from the outside, Bloomberg News reported on Dec. 24. He added that he hoped Levin, who ascended to his role at the age of 33, would stay at the firm.
In selecting Shafir, 59, Och said in a statement Tuesday that "having Rob as a dedicated CEO will enable our nearly 150 investment professionals to continue to focus solely on what they do best -- generating returns for our clients."
And Levin indicated he'd stay put, saying in a statement that he was "excited about the future and look forward to welcoming Rob."
Read more on Levin's tenure with the firm here
Shafir left Credit Suisse in 2016 amid a restructuring at the Zurich-based bank. He was based in New York and worked there for nine years, where he was at one point the highest-paid member of the firm's executive board. In addition to overseeing the Americas for Credit Suisse, Shafir was chairman of the Americas and co-head of the firm's private banking and wealth management unit. He joined from Lehman Brothers Holdings Inc., where he was head of equities and a member of the executive board.
The excitement over Shafir's appointment doesn't appear to be shared by investors. Shares erased earlier gains and were flat at $2.30 at 1:12 p.m. in New York. The stock is down more than 25 percent from a year ago, and has lost more than 50 percent of its value over the past two years.
More than a year after Och-Ziff came to an accord with regulators and prosecutors over bribery allegations regarding business in Africa, the firm has continued to suffer large client redemptions. It had net outflows of about $8.2 billion in the first 10 months of 2017, following about $8 billion of investor withdrawals in 2016.
Read more about Och's legal woes and the impact on his firm here.
In an effort to re-brand the firm post-scandal, Och unofficially changed its name to Oz Management and in February named Levin, who'd been head of credit, as co-chief investment officer. The company also focused on diversifying away from the flagship multistrategy fund -- which has suffered the bulk of outflows -- and luring assets to products including credit and real estate funds.
For Och-Ziff's remaining hedge fund investors -- who have hung on despite years of turbulence -- the hope is that the selection of Shafir will allow management to focus on investing.
"CEO's don't matter that much. It's more about the culture they engender and the stability of the investment team," said Michael Rosen, CIO at Angeles Investment Advisors, who's invested with Och-Ziff's credit-opportunities fund. "We have money that Jimmy oversees, and that's what matters more than this."
The Wall Street Journal reported on Jan. 23 that several directors were shocked by Och's decision to snub Levin, while unidentified people familiar with the billionaire's thinking said Levin had pushed too far for more money and control. Last year, Levin was given a pay package of as much as $280 million.
Och had previously agreed to step down as CEO around year-end, but changed his mind after a series of exchanges with the board and Levin that included proposals for Och to relinquish his voting shares, the paper said. The board presented Och with a plan in December to hand over the reigns this year, but he wouldn't accept, according to the Journal.
Och started the hedge fund firm in 1994 after spending more than a decade at Goldman Sachs Group Inc. Och-Ziff, whose main fund became one of the most profitable hedge funds in the history of the industry, sold shares to the public in 2007.
On Monday, former U.S. Attorney General Bill Barr stepped down from Och-Ziff's board, citing, in part, a disagreement over succession, according to a regulatory filing. Barr joined as a director in August 2016.
Shafir stands to be handsomely rewarded at Och with a pay package worth as much as $60 mllion.
Read more about the new CEO's pay here
"Of all people, Shafir has deep integrity, he inspires people to perform and he's one of the people you want to win," said Millennium's Jain.
— With assistance by Christine Harper
Before it's here, it's on the Bloomberg Terminal.
LEARN MORE