Cars
Jay Leno Thinks Americans Have Forgotten the Meaning of Luxury
An afternoon on the road with America's most famous vintage car fanatic.
By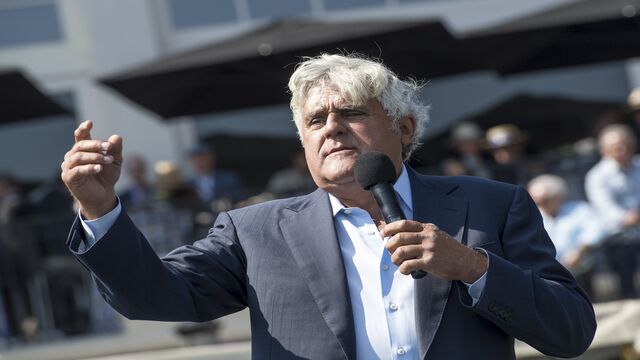 Jay Leno's denim-on-denim thing is a whole lot of look.
But after just a few minutes chatting with him in his now-famous garage, you realize it's such a natural expression of who he is: a casual gearhead who just wants to be around cars. (The down-to-earth outfit also belies his deep intellect and even more profound seriousness.)
I have known Leno for six years, having first met when I profiled him for a magazine in 2012. Since then, I have been in Leno's garage, sat with him at charity events, driven old and new cars with him, and even let him drive me around Burbank in the sidecar of a 70-year-old motorcycle.
As a journalist, I have interviewed everyone from Ewan McGregor and Jennifer Lopez to Elon Musk and Kobe Bryant, not to mention the heads of every luxury automotive group in the world. But Jay is one of the interviewees for whom I always feel I must be best-prepared. He's extremely sharp in conversation, cross-referencing obscure pop culture ephemera, automotive data and, say, a random memory he had growing up as the son of an insurance salesman in New England. He doesn't miss a thing; he'll call out of the blue and just start talking.
The guy is as real as it gets when it comes to cars—this we all know. He shows up at his shop six or seven days a week, greets the guys who work with him, films a segment or two for his show, putters around with a favorite—usually the 100-year-old steamer—and goes home. On some evenings, he performs standup, flying to and from the destination in the same day so he never has to spend the night. On the weekends, he'll pop in at informal gatherings of vintage car aficionados up and down the Pacific Coast, or drive by a swap meet to see what's good.
You might like to know that even though he owns more than 200 cars, Leno doesn't own Ferraris. He doesn't care for DeLorean, either. He's the kind of guy that drives a vintage Fiat 20 miles up California's Highway 2 to a remote mountain lodge in order to support a charity day for children in need.
I saw his dressing room the last time I visited his Burbank warehouse; it held what looked like about 1,000 pairs of Wrangler jeans, rinsed in the same wash, and as many or more of the cowboy-style denim shirts he wears to match. That's how I know he truly doesn't wear other stuff: It was all there, all the same, down to the black tennis shoes that go with them.   
That day, we took a drive in his 1958 Imperial, a 19-foot-long road yacht Chrysler made as its top-of-the-line convertible day-tripper. Some versions even carried the first versions of cruise control (then called "auto pilot) and came with then-revelatory power door locks. We talked about the cars Leno grew up with ("When you grow up in a little town in new England, anything with less than four doors on it might as well have been a Ferrari") and how he learned to drive (it involved some old thing he and friends repaired and then drove in a field).
He told me he considered selling insurance like his dad, since his father often motivated employees with a juggling act set to Frank Sinatra songs, and "I thought maybe I'd sell insurance, because then you'd get to do a show once a month."
Leno even had thoughts on President Donald Trump. "We Americans tend to confuse luxury with flash," he said. "Garish. I mean, look at Trump's apartment. Is sitting on a gold chair really comfortable? No, it's not luxury at all."
It was a great drive. 
Before it's here, it's on the Bloomberg Terminal.
LEARN MORE