McDonald's Menu Gets Hit by Labor Costs
By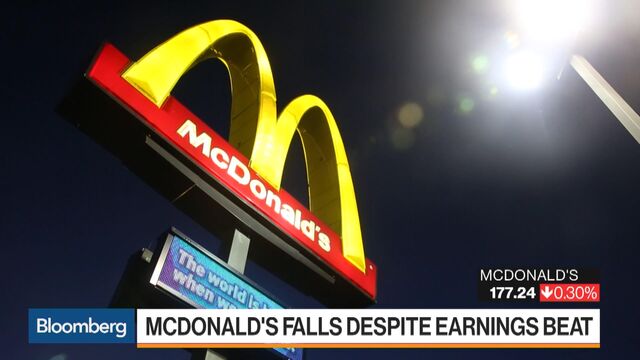 Call it a McMicrocosm.
McDonald's Corp.'s fourth-quarter earnings report served up a tantalizing taste of a trend the Federal Reserve thinks will be super-sizing across the U.S.: a tightening job market translating into a pick-up in inflationary pressures.
Margins shrank by 150 basis points at company-operated U.S. stores, due in part to higher labor costs, the Oak Brook, Illinois-based fast-food behemoth said Tuesday. Chief Financial Officer Kevin Ozan attributed the development to "both wage pressures and our continued investments in deployment of our key initiatives."
The way those Golden Arches are sloping looks an awful lot like a Phillips Curve, which describes a presumed inverse relationship between the unemployment and inflation rates.
Job openings in the accommodation and food services sector rose to a record high of 787,000 in November, underscoring the difficulty restaurants are having finding and keeping employees. McDonald's, in turn, is passing labor costs along to customers. Menu prices climbed 3 percent year-on-year in the U.S.
As unemployment shrinks, some labor pools the company relies on are getting particularly tight. The jobless rate for Americans over the age of 25 without a high school diploma improved by 1.3 percentage points in 2017. The rate among those with only a high school education fell to 4.2 percent in December, its lowest level since June 2007. McDonald's has been raising wages and offering workers tuition assistance to stay competitive.

"The fight for talent continues," Chief Executive Officer Stephen Easterbrook said on a conference call following Tuesday's earnings report. "It's going to get increasingly challenging to attract the talent you want into your business, and then you're going to work really hard through training and development to retain them."
The utility of the Phillips Curve as a conceptual framework was slammed at the January annual meeting of the American Economic Association in Philadelphia, but it remains a guiding light for monetary policy formulation by the Fed.
"Many indicated that they expected cyclical pressures associated with a tightening labor market to show through to higher inflation over the medium term," according to the minutes of the central bank's December meeting.
Janet Yellen's final two-day meeting as Fed chair kicks off on Tuesday.
Before it's here, it's on the Bloomberg Terminal.
LEARN MORE