markets
ECB's Knot Says QE Could End With Short Taper After September
By and
Dutch central-bank governor makes speech in Amsterdam

Knot earlier said bond-buying should end 'as soon as possible'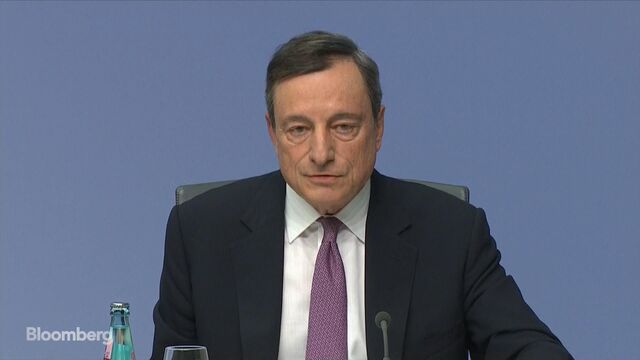 European Central Bank Governing Council member Klaas Knot said he backs the view that quantitative easing probably won't come to a sudden halt.
"It's perfectly reasonable for the asset-purchase program to come to an end after September with a short taper period if needed," the governor of the Dutch central bank, who generally sides with more-hawkish policy makers, said in a speech in Amsterdam on Tuesday. "Only after that we will turn to other instruments like our policy rates.''
European bond markets were whipsawed at the start of this week after Knot said in a Dutch television interview that bond purchases should stop "as soon as possible." Bloomberg reported later on Monday that even those Governing Council members who want to signal the end of QE endorse a gradual slowing of the program after the current phase ends.
Read more: ECB Officials Are Said to Assume QE Will End in Short Taper
Purchases are scheduled to run until September at a pace of 30 billion euros ($37 billion) a month, taking the program to 2.55 trillion euros. The Governing Council reiterated after last week's policy decision that the program could be extended again if the inflation outlook is too weak to achieve its price-stability goal.
"Given the current pace of economic expansion, I'm confident that in the medium term, euro-area inflation will return to below but close to 2 percent," Knot said. "The ECB will achieve its inflation goal in the foreseeable future so price stability is not at stake. This justifies a gradual normalization of monetary policy.''
Late on Tuesday, Executive Board member Yves Mersch -- also considered relatively hawkish -- said he recognizes the positive effects of QE but also that it carries risks.
"We have seen that results, through many examples, have been reached through QE," Mersch said in Frankfurt. "We have never said that there would not be dangers of negative consequences."
— With assistance by Carolynn Look
Before it's here, it's on the Bloomberg Terminal.
LEARN MORE