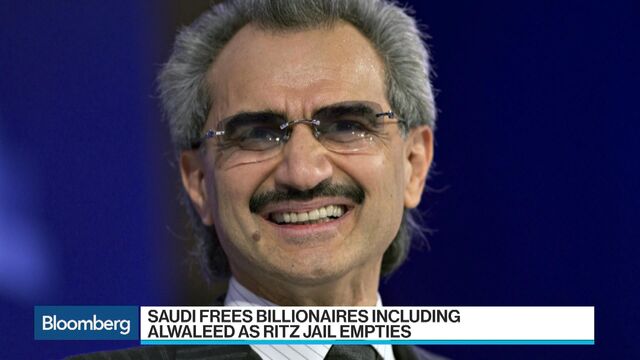 Even before Prince Alwaleed bin Talal and other billionaires were released after almost three months in detention, Saudi officials had already pronounced their controversial anti-corruption crackdown a resounding success. Authorities were on track to recover more than $100 billion in settlement deals in exchange for dropping all charges against dozens of the country's rich and famous, a senior official said last week. Yet as detainees leave their luxury prison at the Ritz-Carlton in Riyadh, questions linger. Was this a crackdown, a power grab, or a shakedown to help an economy strained by low oil prices? Is it the end of anti-corruption efforts in the largest Arab economy?
1. How many people have been released?
There are no more detainees currently held at the Ritz, a senior government official said on Tuesday. Attorney General Sheikh Saud Al Mojeb said in a rare Jan. 21 interview that about 90 people were released after agreeing to pay back ill-gotten money, while those who won't reach agreements will be referred to the public prosecutor.
2. Who are the main suspects that have agreed to settle?
Over the weekend, Prince Alwaleed and other top businessmen including retail billionaire Fawaz Al Hokair were let go. Also freed were Khalid al-Tuwaijri, head of the royal court under the late King Abdullah, and Prince Turki bin Nasser, who was involved in a massive arms sale that led to corruption probes in the U.K. and the U.S., one of the government officials said.
3. Does agreeing to a deal mean admitting guilt?
That's debatable. The allegations against Prince Alwaleed were never formally made public, though a senior official said at the time of his detention that he was accused of money laundering, bribery and extortion. The billionaire maintained his innocence in an interview with Reuters before his release, saying all his dealings had been appropriate. The senior official disputed the prince's account, saying settlements "don't happen unless the accused acknowledges violations and documents that in writing and pledges that he won't repeat them. This is the general principle of all who were detained in corruption cases recently and not only Alwaleed bin Talal," the official said.
4. How much did Alwaleed have to pay?
It's unclear. In December, two people with knowledge of the matter said the prince was balking at demands he give up control of his Kingdom Holding conglomerate. The prince will remain at the helm of the company, the Saudi official said.
5. What about others?
Authorities said in November that Prince Miteb, son of the late King Abdullah, agreed to pay more than $1 billion to win his freedom but haven't released details of other agreements. Waleed al-Ibrahim, head of the Middle East Broadcasting Center, was pressured by the government to give up a controlling stake in his Dubai-based company, according to two people familiar with the matter. The terms of his release aren't clear. Al-Ibrahim will return to running the media company as usual, one of the people said.
6. How do investors view the unwinding of the probe?
With the suspects' names and evidence against them never officially announced, the detentions had raised concerns about transparency among foreign investors -- vital to Crown Prince Mohammed bin Salman's plan to diversify the economy away from oil. So those who saw the arrests as a shakedown or a power play by Prince Mohammed will likely maintain this view. Others say the release of Prince Alwaleed and other billionaires marks the end of the controversial episode. "It is time for investors to pay attention to the real story of Saudi Arabia," said Ali Taqi, head of equities at Rasmala Investment Bank Ltd. in Dubai. "It is as if you were reading a book in a library and, suddenly, a false fire alarm goes off. Now it is the moment to get back to the book."
7. What impact will the purge have on investments?
Foreign direct investment might drop in the short term, but that the crackdown will eventually prove to be the best thing that happened to the Saudi economy, a senior official said in an interview last week in Riyadh. Prince Alwaleed's Kingdom Holding surged 10 percent on the first trading day following his release, while the benchmark index gained 0.2 percent. "Companies of people associated under the anti-corruption crackdown would be under extra scrutiny from investors till such time the findings of such a crackdown are clear," said Kunal Damle, senior institutional sales broker at Securities & Investment Company in Bahrain. "The positives for the business are that from the face of it, it looks like it is business as usual for the companies."
8. Is corruption prevalent in Saudi Arabia?
Transparency International's Corruption Perceptions Index, which is based on a global survey asking citizens about their direct experience of graft, rates Saudi Arabia similarly to China and India, with a score of 46 out of a possible 100 points. Prince Bandar bin Sultan, a former Saudi ambassador to the U.S., defended corruption as "human nature" in a Frontline interview in 2001 and said that if $50 billion of the $400 billion spent to build the country went to line pockets instead, it was an acceptable amount. In a secret 1996 cable published by WikiLeaks, a U.S. diplomat in Riyadh reported that a handful of the most senior princes enriched themselves by skimming from "off-budget" programs that received 12.5 percent of the country's oil revenue. The diplomat said some royals used their power to confiscate land from commoners in order to resell it to the government at a profit.
9. Can Prince Mohammed change this system?
Many doubt the kingdom can change quickly. Some analysts also question the extent of change if those who were held at the Ritz were allowed to return to their normal positions without clarity on whether they were found guilty or innocent.
10. What do Saudi officials say?
Saudi officials attending the World Economic Forum in Davos last week said the purge was designed to level the playing field among investors. They say Prince Mohammed had no choice but to press ahead with the campaign to eradicate corruption if his plan to transform the Saudi economy was to work. The attorney general said this is not the end of the anti-corruption drive. "This is a new era," he said last week. "Corruption will be eradicated. The campaign against corruption won't stop."
The Reference Shelf
Before it's here, it's on the Bloomberg Terminal.
LEARN MORE