All Eyes on U.S. After Week of Cautious Optimism in Nafta Talks
By , , and
All eyes will be on Robert Lighthizer after productive round

At least one new Nafta chapter closed, talks continue on autos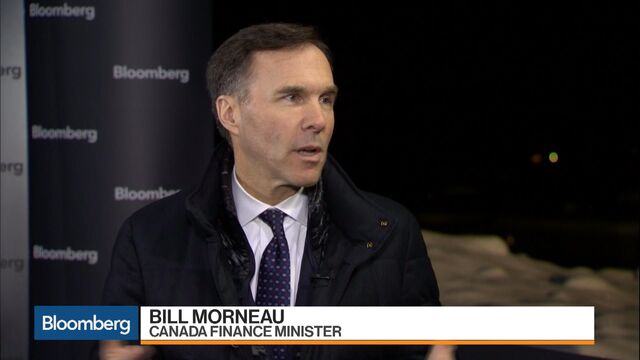 All eyes are on the U.S. as the latest round of Nafta talks wrap up amid promising signs of flexibility among the trading partners on the thorniest issues.
The sixth round of negotiations ends Monday after a week marked by cautious optimism, with negotiators concluding their first chapter since October and broad discussion about the biggest sticking points. President Donald Trump himself has toned down his rhetoric over the North American Free Trade Agreement, and he isn't expected to use his State of the Union speech on Tuesday to give a notice of withdrawal as some had privately feared.
Now it's up to Robert Lighthizer, the president's trade chief, to signal whether the U.S. truly likes what it has seen, as Trump's threats to kill the pact continue to loom large. With risks of an immediate collapse appearing to have diminished, the next round of talks is scheduled for February in Mexico City.
Lighthizer "recognizes there's a great deal of work to be done, but he's hopeful," Dave Reichert, the Republican chairman of the House Subcommittee on Trade, told reporters on Sunday. "There's just an air of optimism. They're already talking about additional rounds."
Raymond Bachand, the lead negotiator for the Canadian province of Quebec, said he expects a U.S. round in about April and another in Canada in May. Trump once wanted a deal done by December before talks were stretched through March, and they now look to run possibly into 2019.
Lighthizer, Canadian Foreign Minister Chrystia Freeland and Mexican Economy Minister Ildefonso Guajardo are set to meet privately Monday in Montreal before giving a join trilateral statement, their first since October when they traded barbs. What Lighthizer says is the test. The U.S. lead negotiator, John Melle, has refrained this week from commenting on the talks, making it difficult to discern the U.S. view.
"I'm more optimistic than I was six months ago," said Bill Pascrell, a Democratic member of the House Ways and Means Committee and one of about 10 lawmakers who flew to Montreal for meetings on the sidelines of negotiations. The talk of tearing Nafta down has changed, he said. "Let's make this marriage work."
At this round, negotiators agreed to conclude their third of roughly 30 chapters, one on anti-corruption. Officials have said talks are progressing. Some of the hallmarks of this round included Canada introducing "ideas" -- officials refused to call them formal counter-proposals -- and discussions around three controversial U.S. proposals.
'Set the Tone'
On autos, the Canadians have suggested rewriting how the value of a car is calculated to demonstrate a higher share of local content. The U.S. has called for increasing the regional content in autos and adding a U.S.-specific one.
The U.S. has also proposed a sunset clause that would cancel Nafta after five years unless the parties agree to extend the deal, while the Canadians and Mexicans have suggested a periodic review, without termination, instead. Finally, Canada prodded the U.S. on investor dispute panels contained in Nafta's Chapter 11, which the U.S. wants to opt out of, and suggested Canada and Mexico would have their own system without the U.S.
"With every passing round of the negotiations, more and more of the contentious issues are closer to being solved," Andrew Leslie, a Canadian lawmaker who serves as an envoy for Canada-U.S. relations, said during negotiations.
Premature Conclusion
Heading into talks, there was fear of a stalemate. Despite positive signs emerging, officials downplayed expectations for other chapters to be concluded, and talks on the most divisive issues remain largely theoretical. "I think it would be premature to say anybody is buying into anything at this point," said Perrin Beatty, head of the Canadian Chamber of Commerce. Lighthizer and his counterparts "really set the tone and they convey a sense as to whether or not the chemistry is good, and whether or not there are good prospects for reaching an agreement."
The ministers' meeting on Monday "is fundamental," said Francisco de Rosenzweig, a lawyer at White & Case who previously served as Mexico's top international trade negotiator and is part of the private-sector delegation in Montreal. "That meeting is where we're going to have a better idea about the way forward in this process of renegotiation, if it's going to be able to deliver in the coming months or if it's going to be kicked until the end of the year at least."
Before it's here, it's on the Bloomberg Terminal.
LEARN MORE