politics
Red Lights Flashing for Republicans Before Midterms
By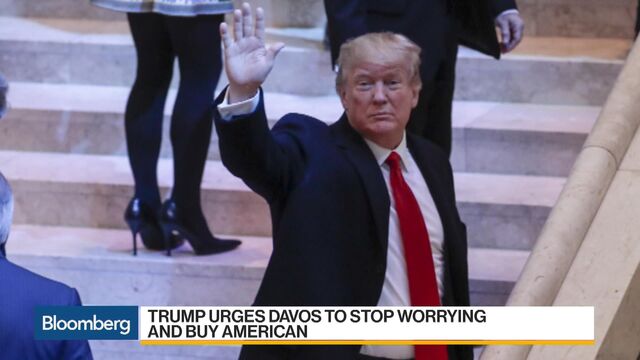 Want to receive this post in your inbox every morning? Sign up for the Balance of Power newsletter, and follow Bloomberg Politics on Twitter and Facebook for more.
History, demographics and the national mood are pointing to one conclusion about this year's U.S. midterm congressional races, Greg Giroux reports: Democrats are well-positioned to bring one-party government in Washington to a screeching halt.
Signs abound that Donald Trump's fellow Republicans may lose control of the House, giving Democrats more influence than they've enjoyed since they lost the White House a year ago.
That would thwart Trump's ability to impose his agenda, and his administration almost certainly will be pinned down by congressional investigations as well as Special Counsel Robert Mueller's probe into possible ties between Trump's campaign and Russia. Reacting to a report Trump almost fired Mueller in June, Republican Senator Lindsey Graham said such a move would "end" his presidency.
Since the end of World War II, the party in control of the White House has averaged a net loss of 26 House seats in midterms. The Democrats need to flip just 24 to win a majority in November. Two seats would do for the Senate, but that's viewed as less likely.
With Trump's 38 percent approval rating lower than any of his predecessors at this stage of the presidency going back to Harry Truman, according to Gallup polling data, Republicans have reason to worry.

Global Headlines
Trump's moment | The president's State of the Union address tomorrow will be one of his last, best chances to win over more of the American public to his nationalist agenda ahead of the midterms. White House officials say he'll dial back his signature combative posture and instead frame his policy proposals — from immigration to infrastructure — as areas where Democrats and Republicans can work together.
May troubles | Theresa May appeared in trouble yet again with the so-called Brexiteers over her finance chief's suggestion the U.K.'s separation from the European Union would result in only "very modest" changes. But in a key intervention, Trade Secretary Liam Fox, an ardent Brexit cheerleader, told Bloomberg it would be "foolish" to destabilize her now. It's hard to predict — given the febrile nature of British politics right now — if May is about to face a leadership challenge, but Fox's words hint she might just be able to limp on.
Putin's EU allies victorious | The presidents of the Czech Republic and Finland, both advocates of stronger ties with Russian leader Vladimir Putin, won second terms in weekend elections. Finnish incumbent Sauli Niinisto has balanced links with Russia alongside commitments to the European Union. But his Czech counterpart, Milos Zeman, has thrown his support behind an anti-establishment party that's pushing for a Brexit-style vote to quit the bloc.
China's expanding belt | President Xi Jinping's signature Belt and Road Initiative has become truly global with the addition of Latin America and the Arctic. Only the U.S., Canada and Japan are still resisting China's plan to enhance infrastructure along global trade routes. China is working on winning over Japan, agreeing this weekend to attend a trilateral summit in Tokyo that will also include South Korea — the first such gathering since 2015.

Saudi guessing game | Saudi billionaire Prince Alwaleed bin Talal reached a settlement with authorities and returned home on Saturday after spending more than two months in detention at the Ritz Carlton in Riyadh. To read more about why the corruption clampdown has everyone guessing what's next, risking investments into the kingdom, click here. And see this report by Vivian Nereim and Sarah Algethami on why some Saudi millennials aren't dancing to the tune of the powerful Crown Prince who led the probe.

And finally... Three days after the hacking of Japanese cryptocurrency exchange Coincheck, the theft of nearly $500 million in digital tokens is still reverberating through markets and policy circles around the world. It's unclear how the perpetrators pulled off the heist, and Japan's financial watchdog has ordered the company to submit a report on the root causes of the debacle. The question now is whether Japan goes as far as South Korean regulators, who are debating whether to ban exchanges outright.

— With assistance by Michael Winfrey, and Andy Sharp
Before it's here, it's on the Bloomberg Terminal.
LEARN MORE