business
Bruno Mars Gets Top Grammys as Feel-Good Pop Wins Over Politics
By
Hawaii-born star earns record, song, album of the year

Kendrick Lamar, Jay-Z miss out on most coveted honors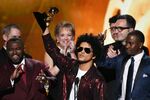 Bruno Mars earned the most coveted awards at the Grammys, as the Recording Academy lauded a more traditional pop star over bold, politically charged statements from hip-hop's most influential artists.
The silky-smooth singer from Hawaii won album of the year for "24K Magic" and song and record of the year for two separate singles from the collection of throwback rhythm-and-blues jams.
He fended off challenges from rappers Kendrick Lamar and Jay-Z, who had garnered the most nominations and were competing to be the first rap act to win the song or record awards. Lamar did win five Grammys, making him the night's second-most decorated artist.
For a full list of winners, click here.
Mars, 32, has been performing since he was a child, and the two-time Super Bowl halftime performer is known for dance-friendly party anthems whose lightheartedness belie their technical sophistication. All three of his albums have gone platinum, selling more than 1 million records in the U.S., and five of his songs have topped the charts. "24K Magic," released late in 2016 through Warner Music Group's Atlantic label, yielded three top-10 hits.
"He's a genius," said songwriter Jonathan Yip, who co-wrote "That's What I Like," Mars's winner for song of the year. "He's a triple or quadruple threat. He can play instruments, he can dance, he can sing, he's charismatic on stage."
Bragging Rights
While Grammy wins only produce a modest bump in sales for already popular artists, they boost the influence and prestige of artists and the label executives who back them. Among the people Mars thanked was Julie Greenwald, whose job running Atlantic Records makes her one of the industry's most powerful figures. Lamar's wins were a victory for his label, Interscope, which is part of Vivendi SA's Universal Music Group. The ceremony was a letdown for Sony Corp., which won big last year with Adele's "25."
The music industry uses the Grammys to promote its big stars and emerging artists on a national stage. Last year's show was viewed by 26 million people, the eighth-largest audience for any TV broadcast. The awards ceremony returned to New York City, the birthplace of hip-hop, for the first time in 15 years in honor of the event's 60th anniversary, and set up shop in one of the town's most famous music venues, Madison Square Garden. Comedian James Corden hosted the affair, which aired on CBS.
Hip-Hop's Rise
The Recording Academy has been slow to recognize hip-hop, a genre that has defined youth culture since the 1980s, influencing fashion, sports and entertainment. Hip-hop and R&B surpassed rock last year to become the most popular genre in the industry, according to Nielsen Music. The Academy didn't create a category for best rap album until 1995, and has never awarded the Grammy for best song or record to a genre known for lyrical wordplay and experimental production.
YouTube dedicated its pre-Grammy party to New York hip-hop, while Warner Music Group called on emerging rapper Cardi B to headline its fete in midtown Manhattan. The Grammys didn't hand out any awards in the rock category during the broadcast, and Leonard Cohen -- who died in late 2016 -- won for best rock performance.
"The conversation all this week has been about Kendrick and Jay-Z, two albums that really show the growth of hip-hop," Zane Lowe, a host on Apple Music's Beats 1 radio station, said on the red carpet before the ceremony. He called Mars's work "an amazing throwback to vintage 1990s R&B."
Different Vibes
Mars's feel-good music is a stark contrast to the brooding, intellectual work of Lamar, a 30-year-old rapper from Compton, California, who has contended for album of the year three times in five years. He won rap album of the year in 2016 for "To Pimp a Butterfly," delivering a searing rendition of "Alright" at the ceremony.
This year, he opened the broadcast with another politically charged performance of "XXX" with U2's Bono and The Edge and comedian Dave Chappelle, who delivered a one-liner: "The only thing more frightening than watching a black man be honest in America is being an honest black man in America."
Provocative Moments
Lamar's awards included best rap/sung collaboration for "Loyalty," with Rihanna, and best rap album for "Damn," which opened at No. 1 on the Billboard charts last April and remained there for three weeks. Chappelle won for best comedy album.
Lamar's performance, which concluded with dancers in hooded sweatshirts miming being gunned down one by one, was one of a few provocative moments that peppered an otherwise run-of-the-mill awards show. Kesha, the pop star who accused her producer of sexual assault in a lawsuit, was joined by artists including Cyndi Lauper and Andra Day for an emotional rendition of "Praying," a ballad about surviving abuse.
Camila Cabello, the Cuban-American singer whose new album hit No. 1 on the charts this month, spoke out against the deportation of immigrants who came to the U.S. as children. And in a prerecorded segment, artists took turns reading passages aloud from Michael Wolff's "Fire and Fury," the incendiary book about the Trump administration, with Hillary Clinton delivering the final lines.
Lamar and Jay-Z, the 48-year-old hip-hop legend who released the introspective "4:44" last year, competed head-to-head in all three categories with Mars.
"24K Magic" earned Mars his second Grammy for record of the year in the past three years, after 2016's victory for "Uptown Funk." "That's What I Like" was his first win for song of the year, which honors songwriting, after four nominations in eight years. Mars won his first Grammy in 2011 for "Just the Way You Are,'' his debut single.
Before it's here, it's on the Bloomberg Terminal.
LEARN MORE