politics
Trump Says He'd Be 'Tougher' Than May in Brexit Talks With EU
By
President says he'd be 'tougher' than May with European Union

Lidington calls for unity from Tories who want Hammond fired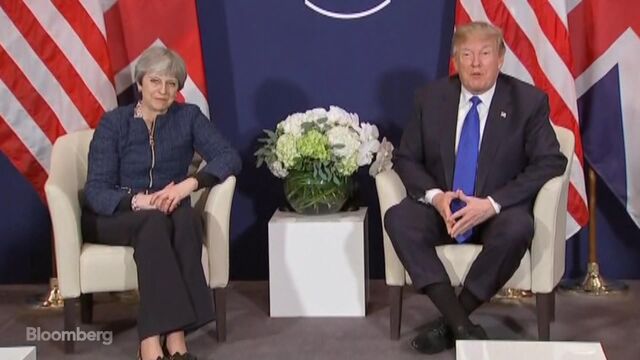 U.K. Prime Minister Theresa May wanted Donald Trump's endorsement to prove to the world, and to her rebellious party colleagues, that she's steering Britain toward a bright future of global trade after Brexit. 
Instead, the president gave an unflattering assessment of her performance and suggested she should be "tougher" in negotiations with the European Union.
Only three days after putting on a display of unity with May at the World Economic Forum in Davos, Switzerland, Trump risked reopening wounds in the "special relationship" between Britain and America -- on the most sensitive of subjects for the prime minister.
Trump said he would have taken "a different attitude" to the Brexit talks. "Would it be the way I'd negotiate? No," the president said in an interview with ITV's Piers Morgan, to be broadcast on Sunday. "I would have said that the European Union is not cracked up to what it's supposed to be, and I would have taken a tougher stand in getting out."
Trump's unvarnished public critique threatens to weaken the prime minister further as she battles a political rebellion at home.
Tory Wars
May's under pressure from pro-Brexit lawmakers in her Conservative Party, who fear she'll fail to deliver the decisive break with Europe that they campaigned for. There is speculation that some are plotting to oust her.
On Sunday, euroskeptic Tories demanded that May show she's serious about quitting the EU's single market and customs union. They think her plan for a transition phase will tie Britain too closely to the bloc's rules.
"There's no clear destination either in the government's mind or indeed agreed with the European Union, and there's no set time limit" on the transition phase, said Conservative parliamentarian Jacob Rees-Mogg. "One friend of mine said that it looked more like a plank than a bridge," he said on ITV's "Peston on Sunday" show.
Brexit supporters are also targeting Chancellor of the Exchequer Philip Hammond, with some urging May to fire him. They see Hammond as the chief obstacle to the clean break with the EU.
'Real Trouble'
On Thursday, Hammond enraged Brexit backers by saying he hoped the U.K. and EU economies would only move "very modestly apart." Rees-Mogg said Hammond's stance spelled "real trouble" for the government, and the chancellor's Cabinet colleague Natalie Evans became the most senior Tory to rebuke him in public.
May's de facto deputy, Cabinet Office minister David Lidington, appealed for calm. Tories critical of May's leadership should "come together in a spirit of mutual respect," Lidington told BBC television's "Andrew Marr" show on Sunday. He warned rebels to look at "the bigger picture," which shows the Conservatives neck-and-neck with the opposition Labour Party in the polls.
May faces another test this week when her Brexit legislation gets its first debate in the U.K. Parliament's upper chamber, the House of Lords. Peers from all sides are plotting to re-write the EU Withdrawal Bill, and May's ministers acknowledge they might have to concede.
The troubles for May are mounting. In addition to Tory divisions on Brexit and questions over her leadership, May's government is fighting claims in The Sunday Times that Defense Secretary Gavin Williamson leaked intelligence secrets. The paper also accused three former ministers of trying to cash in on their government connections as Brexit consultants for private firms.
"Good God we need to get a grip and lead," Conservative parliamentarian Heidi Allen said on Twitter. "We are letting this country down."
Before it's here, it's on the Bloomberg Terminal.
LEARN MORE