Strikes Loom at Daimler, Siemens as Talks Fail
By , , , and
IG Metall plans 24-hour walkouts next week as no deal reached

BMW braces for production losses as strikes set to escalate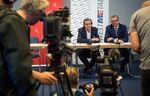 Germany's most powerful union is escalating a dispute over wages and flexible working hours with day-long strikes planned for next week that threaten to hit major industrial companies from Siemens AG to Daimler.
Talks with IG Metall, which represents some 3.9 million workers in Europe's largest economy, broke off without a deal early Saturday following 16 hours of negotiations preceded by weeks of tense back-and-forth. The union, which has rallied about 960,000 people across Germany for one-hour protests in recent weeks, said it plans day-long walkouts that would be much more disruptive.
"These strikes will cause pain to employers," Joerg Hofmann, chairman of the union representing workers in metals and electronics manufacturing sectors, said during a webcast press conference. "It'll stop their products from being manufactured."
The failed talks marked the fifth round of negotiations with no deal. The discussions won't resume until after the broader walkouts next week, the union said. The group has also asked members to prepare a vote on a comprehensive nationwide strike. Robust economic growth and record-low unemployment have fueled IG Metall's push to raise pay 6 percent and subsidize wages for workers who reduce hours to care for kids or older family members.
"The dispute is moving into another dimension now," said Jochen Frey, a spokesman for Munich-based BMW AG. "A day-long strike would affect a four-digit number of cars in production." 
Opposing Positions
Worker Demands
Employer Stance

6 percent pay increase
28-hour work weeks to care for family

200 euros/month or 750 euros/year to offset lost wages

Right to return to full-time hours

2 percent pay increase
Rejects subsidies for shorter hours as illegal
More flexibility to extend hours
To read more about Germany's wage negotiations, click here.
Policy makers from central bankers to politicians have been watching the collective bargaining talks closely. Apart from the disruption from potential factory shutdowns, economists are concerned about the longer-term impact of wage stagnation. If the region's most prosperous country can't increase pay, others may face an even greater hurdle. That would complicate the European Central Bank's efforts to boost inflation and eventually unwind fiscal stimulus measures.
Many German companies already face a tight labor market that makes it difficult to agree to workers' requests for more free time. IG Metall has tabled that workers be allowed to reduce their hours to 28 per week from 35 for two years and have the right to return to full time. Employers wanted to end limits on the number of employees that can work longer.
"We moved toward the demands of IG Metall with offers and possible solutions," Stefan Wolf, chief executive officer of car-parts maker ElringKlinger AG and Suedwestmetall's top negotiator, said in a statement following the failed talks. "But IG Metall forced our hand by making several non-negotiable demands that weren't possible for us to agree to."
Before it's here, it's on the Bloomberg Terminal.
LEARN MORE