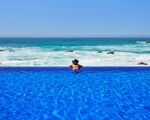 There are casinos that welcome everyone, by the busload. Then there are casinos that are by invitation only, designed for big rollers. In the markets, stock exchanges are the first kind. Ping pools are the second. And like anything else with a velvet rope, they're generating intense interest among those left outside.
1. What are ping pools?
They're alternative stock-trading venues, mostly run by large electronic-trading firms. Virtu Financial Inc. and Citadel Securities operate the largest ping pools. Jane Street Group LLC started its own such venue in 2014; IMC Financial Markets launched one last year.
2. How are these different from dark pools?
Like dark pools -- the private exchanges inside some of Wall Street's biggest banks that let big investors swap large blocks of stock in secret -- ping pools offer more privacy than well-known public exchanges. But dark pools bring orders together from many different investors. By contrast, the company operating a ping pool handles the transactions itself, using its own money to buy what investors want to sell, and selling what they want to buy. Dark pools currently account for about 15 percent of U.S. stock market trading, while ping pools handle less than 2.5 percent.
3. What's in it for investors?
The VIP investors who use ping pools can benefit from better prices and avoid paying exchange fees, while enjoying the kind of privacy found in all dark trading.
4. How do pool operators benefit?
Trading only with investors you know reduces risk, and thus costs.
5. Is this new?
Not entirely. Ping pools have existed for years but have become increasingly attractive to electronic-trading firms as scant volatility has them searching for new ways to make money. Ping pools are also turning up in a slightly different form in Europe, where regulatory changes, including new trading limits on dark pools, has led banks and trading firms to register as "systemic internalizers," a step that allows them to use their own capital to trade with clients.

6. So, where's the 'ping'?
Brokers "ping," or query, the operator with an order from a customer. They do that in the hope of getting a better price than on an exchange. Some off-exchange trading platforms have special relationships with retail brokers, whom they pay for the chance to fill mom-and-pop trades. The practice, known as payment for order flow, has raised questions about conflicts of interest.
The Reference Shelf
Before it's here, it's on the Bloomberg Terminal.
LEARN MORE