markets
Starbucks Paid Johnson $11.5 Million for His First Year as CEO
By and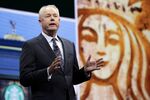 Starbucks Corp. paid Chief Executive Officer Kevin Johnson $11.5 million for last year, when he succeeded founder Howard Schultz, whose salary was cut to $1 as part of his transition to chairman.
Johnson, 57, who took the helm of the coffee chain in April, received $5.91 million in restricted stock and stock options valued at $3.92 million, according to a regulatory filing Friday. He also got $1.15 million in salary and a $470,000 bonus.
The CEO has focused on fixing Starbucks's mobile-ordering technology, which caused backups at pickup counters last year, and emphasized the importance of increasing the chain's presence in China, as he fights slowing sales growth in the U.S. and abroad. Johnson's bonus paid out below target after the company missed goals for operating income.
Shares of Seattle-based Starbucks tumbled 4.2 percent Friday, the most in six months, a day after posting disappointing results in all of its major regions. The stock fell less than 1 percent in the fiscal year ended Oct. 1, trailing the 16 percent advance for the S&P 500 Index.
Starbucks said this week it plans to spend $250 million on new employee benefits, including expanded paid parental leave for most of its hourly workers and paid sick days, in the wake of the U.S. tax overhaul. The company also announced raises for 150,000 hourly and salaried U.S. employees.
Schultz, 64, received $18 million in total compensation, including equity awards and a cash bonus.
— With assistance by Jennifer Kaplan
Before it's here, it's on the Bloomberg Terminal.
LEARN MORE