Here's What Analysts Are Saying About Intel's Solid Earnings
By
Analysts see no material financial impact from security flaw

Diversification into data center market fueling solid growth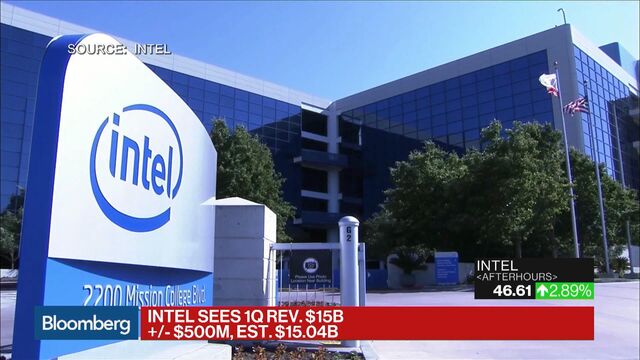 Intel shares are poised to reach a 17-year high as analysts credit diversification into data center services with propelling fourth-quarter results above estimates. Improved execution and visibility into the company's growth and a conservative outlook are likely to push multiples even higher, analysts say, and earned an upgrade from Credit Suisse. The stock rose 6.5 percent at 8:50 a.m. to trade above $48.00 for the first time since 2000.
Credit Suisse, John Pitzer
Pitzer upgraded the stock to outperform from neutral and raised his price target to $55 from $42.
"While Intel modestly underperformed the SOX since March, the absolute performance has been strong and our valuation concerns did not materialize, owing in large part to better execution."
He says the guidance continues to look conservative, the rate of investment has peaked and visibility on growth is improving. Intel's data center growth was the unit's fastest expansion in three years.
Baird, Tristan Gerra
(Rates Intel outperform/top pick, raises price target to $60 from $50)
"As visibility improves toward $4.00 in EPS for 2019, we are making the case for stock rerating, driven by continued revenue growth and combined with the company returning to a 30-percent-plus operating margin profile while redistributing 100 percent of its cash."
"3D NAND, 5G modems, field-programmable gate arrays in data centers are some of the growth catalysts we see for Intel in the medium term, in addition to AI."
MKM Partners, Ruben Roy
(Rates Intel buy, raises price target to $55 from $50)
"Intel's diversification toward data-centric businesses and continued focus on increasing operational efficiencies markets are driving the company toward faster longer-term revenue growth at stronger profitability margins."
"Ultimately, we expect multiple expansion to follow."
KeyBanc, Mike McConnell
(Rates Intel overweight, raises price target to $60 from $50)
"We remain buyers of Intel given that data center group revenue growth re-acceleration from the Purley product cycle should begin in 2018."
Intel's conservative cloud computing and data center guidance "de-risks our model this year," he said.
KeyBanc sees additional growth opportunities in networking, memory and Internet-of-Things
Mizuho, Vijay Rakesh
(Rates Intel buy, raises price target to $52 from $47)
"Intel noted it was addressing the security concerns with Meltdown and Spectre and continues to see no material financial impact."
"We see a slow melt-up with data center stronger and a tailwind with from lower taxes, higher dividends and an attractive valuation."
Bloomberg Intelligence, Anand Srinivasan
"Intel's pivot to become a data center and Internet-of-Things company is stronger after sales re-accelerated in these groups in the fourth quarter, even as the PC backdrop improves."
"The critically important data center group, powered by 35 percent growth in public-cloud chip buying, had 20 percent sales growth. This may persist in 2018, with no notable effect from CPU security issues and a more competitive AMD."
— With assistance by Joshua Fineman
Before it's here, it's on the Bloomberg Terminal.
LEARN MORE