Some Republicans Fear Party's Attacks on FBI Will Backfire
By
One Republican says party shouldn't be 'at war' with FBI, DOJ

Some pushing for release of classified memo alleging problems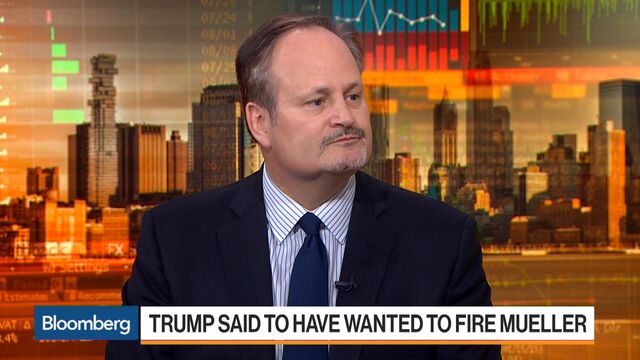 Some Republicans seeking to undermine the investigations into President Donald Trump are aiming their fire at a constituency the GOP has traditionally championed: law enforcement.
Yet that strategy -- embodied in attacks on the Federal Bureau of Investigation and the Justice Department by House Intelligence Chairman Devin Nunes -- is unnerving many other Republicans, who are worried it could backfire on the party.

"We as Republicans have been the party of law enforcement at the state and local levels, as well as the federal level, and we were horrified by attacks from the far left on law enforcement a few years ago," Representative Charlie Dent of Pennsylvania, said in an interview Thursday. 
"I don't think it's in our party's interest to be at war with the FBI, or the DOJ, for that matter," he added.
Nunes and other Republicans have blasted the FBI in recent days for losing thousands of text messages sent between two FBI officials, Peter Strzok and Lisa Page, who criticized Trump in their exchanges. Some Republicans insinuated the missing texts had been deliberately deleted. 
Republicans are also demanding the release of a four-page memo prepared by Nunes and House Oversight Chairman Trey Gowdy that is based on classified material and contains allegations of counterintelligence surveillance abuses against at least one Trump campaign aide. 
The noise has built up into a conservative narrative of potential wrongdoing, including questions about the FBI's dealings with a former British spy and whether top officials wrongly leaned on his Democratic Party-financed work to cut corners to spy on Trump associates. 
Commentators on Fox News and right-wing news sites have suggested the allegations mean that Special Counsel Robert Mueller's investigation should be shut down, and Trump himself has tweeted about some of the controversies, including the missing texts.
"In one of the biggest stories in a long time, the FBI now says it is missing five months worth of lovers Strzok-Page texts, perhaps 50,000, and all in prime time. Wow!," he tweeted on Tuesday.
But already, some of the most serious allegations have been at least partly dispelled. The Justice Department's inspector general announced Thursday that the missing texts have been recovered with forensic tools.
Senate Homeland Security Chairman Ron Johnson of Wisconsin went on Fox News earlier this week saying there was evidence of an anti-Trump FBI "secret society," before admitting two days later in a CNN appearance that a text message he referred to may have been a joke.
"If you're going to be critical, you got to make sure your not painting with a broad stroke and blaming everybody." said Republican Representative Tom Marino of Pennsylvania, a former U.S. attorney and local prosecutor. 
Marino said that he's stood for 18 years "shoulder to shoulder" with the FBI, Justice Department and other law enforcement agencies, and that while it "appears to be some bad apples and maybe not some things done the way I'd see things done, I want to continue to stand shoulder to shoulder with them." He added that he wouldn't choose to wage the confrontation with the agencies in the media. 
The Nunes campaign has spawned a Twitter hashtag, #releasethememo. House Intelligence panel Republicans voted to allow members of Congress to read the memo, fueling additional calls to release it.
One Republican lawmaker who read the memo said its findings were damaging to the FBI, but not as alarming as some other lawmakers have suggested. 
The lawmaker, who asked for anonymity to describe the sensitive document, said the memo charges that FBI officials did not provide a complete set of facts in requests made to a Foreign Intelligence Surveillance Act court to obtain a warrant or warrants on Trump associates. The memo claims important details were left out that might have kept a judge from issuing surveillance warrants. The lawmaker added that he didn't know if the memo's claims are accurate.
Marino said he has "significant reservations" about releasing the memo, in part because it would come without the context of a broader report that committee Republicans intend to issue on Russian election interference.
Senate Intelligence Chairman Richard Burr of North Carolina said he hadn't read the memo -- but that his committee has reviewed the FBI requests for Foreign Intelligence Surveillance Court warrants, too. He said he would wait to reveal his views until his panel issues a final report on Russian election interference.
Senate Judiciary Chairman Chuck Grassley, an Iowa Republican, said Wednesday on the Senate floor that his panel has access to the same information the House committee used to draft its memo, and that he agreed much of this information should made be public as soon as possible, "through the appropriate process." 
"And, I don't just mean the summary memos," he said. "The government should release the underlying documents referenced in those memos, after deleting any national security information that truly needs to be protected. But most of this story can be told, and should be told. The American people deserve the truth."
But the Justice Department warned Republicans against releasing the memo. Assistant Attorney General Stephen Boyd wrote a letter Wednesday to Nunes saying that such a move would be "extraordinarily reckless." He wrote the department hasn't been given a chance to review it, or assess its impact on ongoing investigations -- and that the department is itself unaware of any wrongdoing.
"The rule of law depends on the confidence of the American people that our prosecutors and investigators apply the law fairly and without bias or regard for political influence," Boyd wrote.
Democrats blasted Republicans for attacking the FBI and the Justice Department, saying that many of the memo's findings are distorted or baseless.
The top Democrat on the House Intelligence Committee, Adam Schiff of California, said the memo is "rife with errors," while his Senate counterpart Mark Warner of Virginia called the GOP accusations "extraordinarily dangerous." 
On Wednesday, Schiff said Democrats on the committee would write their own memo "setting out the relevant facts and exposing the misleading character" of the Republican account.
"The Republican attacks on the credibility of the FBI & DOJ are playing right into Putin's hands," Senate Minority Leader Chuck Schumer said Thursday on Twitter. "They constitute an attack on democracy itself & I urge the GOP & the press to stop peddling delusions of secret societies and deep states and coup d'états."
While Democrats see a coordinated GOP-led efforts to undermine the FBI as Mueller conducts his investigation, Senate Republicans have said they don't see any reason to doubt Mueller's integrity and want his inquiry to continue until it's concluded.
Even so, many in the party are still pushing to release the Nunes memo. Representative Peter King, a New York Republican who sits on the Intelligence Committee, said Thursday that he supports the wider release of the memo, which he has read, and that Nunes may schedule a committee vote to do that next week. A spokesman for Nunes said he wasn't available for comment.
If the committee does vote to release the memo, Trump himself would have a final say, following a full administration and national security review.
King disputes Democratic criticism that he and other Republicans are attacking the intelligence community in general. "We're talking about a handful of people -- less than a handful of people at top engaged in questionable activity," he said. "I think at the very least there were serious mistakes made."
"If anything," King said, "this has gotten Democrats defending law enforcement."
— With assistance by Steven T. Dennis
Before it's here, it's on the Bloomberg Terminal.
LEARN MORE