markets
Ex-Deutsche Bank Prop Trader Seeks $500 Million for Energy Raids
By and
Hedge fund Worldview wants to target struggling E&Ps, he says

Firm took over Petroceltic after two-year battle for control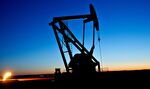 Angelo Moskov, a former proprietary trader at Deutsche Bank AG turned activist investor, spent two years locked in a bitter feud for control of a tiny energy company that lost much of its value when commodity prices crashed. Now he wants up to $500 million to do it again.
Moskov's London-based Worldview Capital Management LLP, which spent about one-quarter of its capital taking over gas explorer Petroceltic International Plc in 2016, will seek the additional funds from investors early this year, he said in an interview. His targets are similar: publicly-traded energy companies that continue to struggle more than three years after commodities prices tumbled, he said.

"It's like a perfect playground," Moskov, 50, said in his office in London's Mayfair district. "These companies are like orphans."
Moskov joins investors seeking out energy deals as they wager that the commodities slump has come to an end. Total deal volume involving exploration and production companies, or E&Ps, jumped to $169 billion last year, data from research firm 1Derrick Ltd. show, the highest since 2014, when oil prices began a plunge that roiled economies and triggered bankruptcies across the sector.
Yet wagering on commodities has been a painful trade amid volatile swings in prices. Janus Henderson Group Plc shut its AlphaGen Elnath fund in December after it lost 34 percent for 2017, Bloomberg reported Jan. 18. Famed oil trader Andy Hall shuttered his main hedge fund at Astenbeck Capital Management LLC after big losses in the first half of 2017, people familiar with the matter said in August.
Moskov, a Bulgarian native who worked at Deutsche Bank until 2004, said if he can raise the funds, Worldview will seek out stakes in London-based E&Ps with assets in the Middle East and Africa and with market capitalizations of between $100 million and $500 million, he said, declining to name potential targets.

Many London-based E&Ps flocked to the Middle East and Africa as prices soared only to lose most of their value after prices tumbled in 2014. And while oil and natural gas have both dropped roughly 40 percent from their peaks of that year, the energy companies often fell far more.
Genel Energy Plc, an oil company founded by Nathaniel Rothschild and ex-BP Plc Chief Executive Officer Tony Hayward, is down 87 percent since mid-2014 to a market value of about 374 million pounds ($533 million) while Gulf Keystone Petroleum Plc has plunged 97 percent and was taken over by creditors in 2016. Both focus on the Kurdistan region in northern Iraq. Ophir Energy Plc, which has operations in Equatorial Guinea, and Soco International Plc, which has assets in the Republic of Congo and Angola, have both tumbled more than 70 percent.
After Deutsche Bank, Moskov helped to run QVT Financial LP before leaving to found Worldview. In 2013, he sought to oust the chairman of Exillon Energy Plc, a London-based E&P with operations in Russia, criticized its management and called for an overhaul of its board. Then-CEO Mark Martin accused Worldview of making "false and misleading statements" to drive down the stock and boost its holdings. Most shareholders disapproved of the proposals and the hedge fund later sold its stock, data compiled by Bloomberg show.
Moskov then moved on Petroceltic, a Dublin-based E&P, where he had amassed more than 20 percent before the crash in commodities prices helped wipe out much of its value. Worldview requested emergency general meetings, started legal action, tried to force out senior management and sought to prevent the company from selling bonds to fund its operations, before eventually taking control in 2016.
Today, Moskov oversees about $500 million, he said. He spent about one-quarter of Worldview's capital between 2012 and 2016 taking over Petroceltic, he said. The explorer's prized asset is a 38 percent stake in the Ain Tsila gas field in Algeria, which has a total present value of $2.8 billion, according to consulting firm Wood Mackenzie.
Before it's here, it's on the Bloomberg Terminal.
LEARN MORE