Bombardier Gets Surprise Win After U.S. Rebuffs Boeing Trade Case
By and
Canadian planemaker calls ITC ruling 'victory for innovation'

Decision clears way for delivery of C Series jets to Delta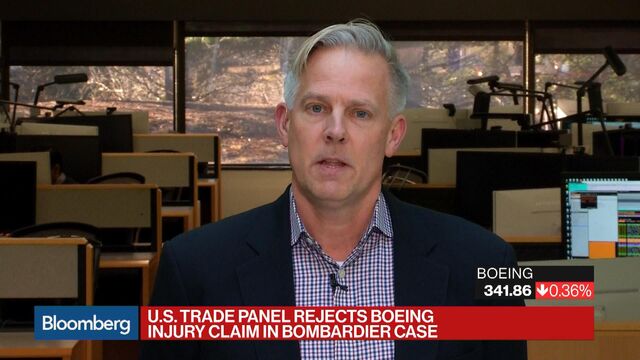 Bombardier Inc. can start shipping C Series jets to Delta Air Lines Inc. after a surprise ruling by a U.S. trade panel that said the proposed imports won't hurt American industry.
U.S. companies and workers aren't being harmed by sales of 100- to-150-seat aircraft from Canada, the International Trade Commission said Friday. The tribunal's unanimous vote blocks a Commerce Department decision last month to impose duties of almost 300 percent.

Friday's vote deals a blow to Chicago-based Boeing Co., which said Bombardier sold the C Series in the U.S. at less than fair value while benefiting from government subsidies. The ruling also opens the door for Montreal-based Bombardier to woo new American customers while potentially easing U.S. trade tensions with Canada and the U.K., where the company builds wings for the aircraft.
"I'm shocked," said Chris Murray, an AltaCorp Capital analyst in Toronto.
"This clears the way for the jets being to delivered to Delta," Murray said. "It also removes any concerns about potential future orders in the U.S."
Bombardier surged 16 percent to C$3.54 at the close in Toronto, the biggest gain in almost two years. The shares are at their highest level in three years.
Boeing was little changed at $343.22, missing out on a defense-industry rally spurred by a report that the White House wants to increase defense spending more than 7 percent in the 2019 budget.
Innovation 'Victory'
The trade panel's ruling is "a victory for innovation, competition, and the rule of law," Bombardier, which spent more than $6 billion to develop the C Series, said in a statement. Last year, with the plane's access to the U.S. market in doubt, Bombardier agreed to hand control of the program to Airbus SE in exchange for the European planemaker's marketing muscle and manufacturing expertise.
Airbus Chief Executive Officer Tom Enders was in Montreal on Friday for meetings with his Bombardier counterpart, Alain Bellemare. Airbus tweeted a picture of the smiling CEOs and other executives raising a toast to the decision.
Bombardier said it would proceed with plans to build a second assembly line for the C Series in Mobile, Alabama, where Airbus manufactures narrow-body planes. That project, which would make planes for the U.S. market and complement a factory in Mirabel, Quebec, is estimated to cost $300 million.

Boeing said it would review the trade panel's finding and vowed to protect U.S. industry from "illegal business practices" at Bombardier.
"We are disappointed that the International Trade Commission did not recognize the harm that Boeing has suffered from the billions of dollars in illegal government subsidies that the Department of Commerce found Bombardier received and used to dump aircraft in the U.S. small single-aisle airplane market," the company said in a statement.
Boeing can appeal to the U.S. Court of International Trade, said Terence Stewart, managing partner at Washington law firm Stewart and Stewart.
"It's been a difficult standard over time," he said. "There haven't been a lot of successful challenges."
'Right Decision'
The ITC vote contrasts with President Donald Trump's decision this week to slap tariffs on solar panels and imported washing machines on the grounds that they're harming U.S. industry. That stirred fears of more restrictive trade measures.
"Boeing's allegations made against Bombardier were unfounded," Canada's Industry Minister, Navdeep Bains, said in a Twitter message. "We're happy to see that the ITC came to the right decision."
U.K. Prime Minister Theresa May said she welcomed the ruling as "good news for British industry." Bombardier's C Series wing factory is located in Northern Ireland.
Delta said it was looking forward to adding the Bombardier jet to its fleet. The U.S. airline threw a lifeline to the slow-selling C Series in 2016 by ordering at least 75 CS100 jets -- a deal with a list value of $5.6 billion at the time.
The Atlanta-based airline said it was "pleased by the ITC's ruling rejecting Boeing's anti-competitive attempt to deny U.S. airlines and the U.S. traveling public access to the state-of-the-art 110-seat CS100 aircraft when Boeing offers no viable alternative."
'Absurdly Low'
Boeing, which brought the trade complaint in April, said government subsidies helped Bombardier compete with "absurdly low" prices. Quebec invested $1 billion in 2016 for a minority stake in the C Series. The Canadian government followed last year with a C$372.5 million ($300 million) financing package for two Bombardier jet programs, including the C Series.
Unfair competition threatened the survival of the 737 Max 7, the smallest of Boeing's upgraded single-aisle jets, the U.S. planemaker said. That plane and the C Series can carry similar passenger loads, depending on how they're configured. Boeing is in talks about a potential combination with the Canadian company's top rival, Embraer SA, which sells planes that directly compete with the C Series.
Sales Prospects
Some of Delta's U.S. peers could be tempted to take a look at the C Series now that the prospect of duties no longer exists. The all-new jet features fuel-efficient engines, large windows and a wider-than-usual middle seat.
JetBlue Airways Corp., Spirit Airlines Inc. and Sun Country Airlines -- while not Bombardier customers -- all wrote to the Commerce Department and the International Trade Commission last year to express support for the Canadian manufacturer. JetBlue has held discussions with Bombardier about the C Series, Bloomberg News reported in 2016.
Deutsche Lufthansa AG's Swiss International, the C Series launch customer, and Air Baltic have praised the jet for its better-than-advertised fuel burn and overall performance. Bombardier projects passenger jets carrying 100 to 150 passengers will generate about 6,000 orders globally over the next 20 years.
— With assistance by Michael Sasso, Randy Woods, Sarah McGregor, and Greg Quinn
Before it's here, it's on the Bloomberg Terminal.
LEARN MORE