China Central Bank Governor's Retirement Seen in Absence From Top Advisory Body
Bloomberg News
Zhou, 70 next week, said last year he would depart "soon"

Bank watchdog boss, Hubei party chief contenders for the job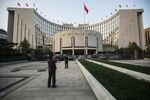 Zhou Xiaochuan, the long-serving governor of the People's Bank of China, wasn't included on a new list of the nation's top political advisory body, the strongest signal yet he may be about to retire.
Zhou, who has served as vice chairman of the Chinese People's Political Consultative Conference since 2013, isn't being re-selected as a member of its 13th national committee, according to the official Xinhua News Agency. The absence signals Zhou -- who turns 70 on Monday -- is likely to retire from the central bank before March, when the conference, a gathering of more than 2,000 people who advise on policy making, usually holds its annual meeting.

It's "reasonable to infer" Zhou's absence from the CPPCC national committee list signals he's approaching retirement, said Ding Shuang, chief economist for Greater China and North Asia at Standard Chartered Plc in Hong Kong. The personnel change "won't influence policy orientation much -- which isn't determined by the PBOC itself, to some extent -- although it does have flexibility in implementation," he said.
The National People's Congress Standing Committee, China's top legislature, will hold a meeting on Jan. 29 and Jan. 30, with the agenda including an item to review appointment proposals, according to its website. While it's not known whether the PBOC governor's appointment plan will be considered, the meeting technically opens a window for a decision.
Meanwhile, Vice Premier Wang Yang, the Communist Party's No. 4 official and until recently in charge of trade issues, was added to the CPPCC national committee, indicating the 62-year-old will become the new chairman.
The Contenders
While Zhou has defied speculation he was about to step down in the past -- such as when he was elevated to the vice-chairman job in 2013 that raised the expected retirement age -- this time he's foreshadowed his own departure, saying last year that it would be "soon."
After a 15-year tenure that's seen Zhou help guide China's monetary and financial system through the global financial crisis, there's still no official clarity on who the candidates are to replace him and an appointment out of left field is still possible.
But there are two officials who are currently seen as contenders to lead the PBOC, in no particular order:
Jiang Chaoliang: Party Loyalist

The party chief of central China's Hubei province and a former chairman of two state-owned banks, Jiang isn't new to the PBOC.
He led the central bank's Shenzhen and Guangzhou branches successively during the Asian financial crisis. There, Jiang worked to defuse risks arising from the collapse of Guangdong International Trust and Investment Corp., China's biggest-ever corporate bankruptcy at the time.
Promoted to assistant governor of the PBOC in 2000, Jiang served as chairman of Bank of Communications Co., where he led an initial public offering of Hong Kong-listed shares and forged a partnership with HSBC Holdings Plc. He was also chair of Agricultural Bank of China Ltd., where he started his career.
Guo Shuqing: The Reformist

Chairman of the China Banking Regulatory Commission, Guo combines political heft with top-level financial industry experience.
His resume includes stints as governor of Shandong province in China's east, chairman of China Construction Bank Corp. and head of the nation's securities regulator. He served at the central bank before, too, as deputy governor between 2001 and 2005, simultaneously running the State Administration of Foreign Exchange.
Many consider Guo a reformer in Zhou's mold -- he's also been focused on reining in financial industry risk. At the banking regulator, Guo has advanced a broad crackdown on overseas investments by China's top dealmakers, asking banks last year to detail loans to such companies as Anbang Insurance Group Co. and Fosun International Ltd.
— With assistance by Yinan Zhao, Keith Zhai, Ting Shi, and Kevin Hamlin
Before it's here, it's on the Bloomberg Terminal.
LEARN MORE