politics
Lula Launches Presidential Bid After Graft Conviction Upheld
By and
Worker's Party kicks off Lula's campaign at trade union HQ

Lula's corruption sentence extended by appeals court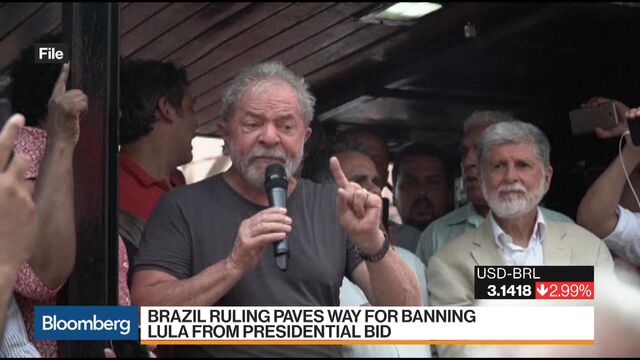 Former President Luiz Inacio Lula da Silva accepted his party's nomination as its presidential candidate in an act of defiance only hours after a Brazilian appeals court increased his jail sentence from nine and half to 12 years in jail.

"I want to be candidate to win the election and govern this country," Lula said on Thursday at the Sao Paulo headquarters of Brazil's largest trade union, CUT, adding that his trial had been fixed so as to rule him out of the running for the presidency. "We're going to battle to the end," he said.
The confirmation of Lula's graft sentence on Wednesday made it likely he will be banned from running in the October election. Yet his lawyers have said they'll continue to appeal the ruling, possibly buying him time to register as a candidate in August and then hit the campaign trail. The former president currently leads opinion polls by a wide margin.
Markets rallied during and after the trial as investors wary about a Lula comeback breathed a sigh of relief. The 72 year-old former factory worker was a market favorite during his two terms from 2003 to 2010, but since has catered more to the left, promising to undo many of the recent pro-market measures that have supported a rally in Brazilian markets.
Lula was convicted of accepting benefits from a construction company, including the upgrade of a beach-side apartment, in exchange for government favors. He denies any wrongdoing and says the ruling is part of a campaign to stop him from becoming president again. It is still unclear if he could be arrested before further appeals are exhausted in higher courts.
His Workers' Party has until mid-August to sign up a candidate for the election. Only then the electoral court, TSE by its Portuguese acronym, will decide whether the candidate may run. Until then, Lula will continue touring the country on an informal campaign.
(
Updates with Lula quote in second paragraph.
)
Before it's here, it's on the Bloomberg Terminal.
LEARN MORE