Uber-Union Proposal on Benefits Met With Skepticism From Labor
By
New partnership in Washington will propose portable benefits

How to classify gig-economy workers is lightning rod debate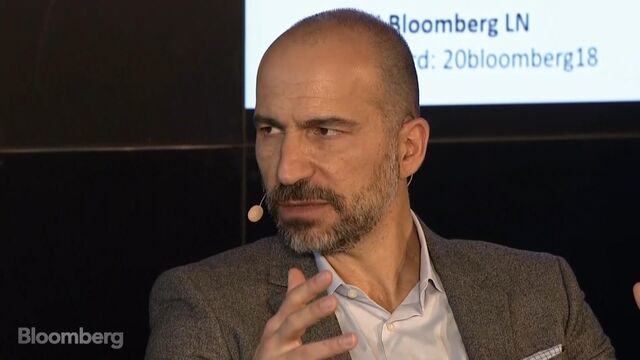 Uber is teaming up with a labor union to promote a modern reboot to the safety net that could help gig-economy workers, like its drivers, get benefits. But some members of organized labor are dismissing the new partnership as a Trojan horse, unconvinced that Uber's new chief executive officer truly has workers' best interest at heart.
In an open letter Tuesday, Uber CEO Dara Khosrowshahi, announced support for "portable benefits," that would give contract workers a way to access some of the perks that full-time employees often receive even if they switch jobs or just work part-time for several companies.
"The social safety system, which was designed for a very different economy, has not kept pace with today's workforce," the letter states. "At a basic level, everyone should have the option to protect themselves and their loved ones when they're injured at work, get sick, or when it's time to retire."
The letter, released by Uber, was also signed by Service Employees International Union local President David Rolf and venture capitalist Nick Hanauer, both of whom have been leading proponents of the concept of portable benefits. "We firmly believe that renewing the social contract is both urgent and important," the letter said.
In general, the concept of making it easier for the increasing number of people who work in "flexible jobs" -- like driving for Uber, renting out rooms on Airbnb Inc., or cleaning houses -- to get benefits has broad support. But critics worry that any Uber-designed legislation will make it easier for companies to get away with treating workers like independent contractors -- and that workers shouldn't have to give up their chance to win the much broader range of protections that come with employee status.
That's why the letter was met with immediate pushback on the left, including from some of Rolf's colleagues.
"This is just a facelift by Uber to be able to look like they actually care about the people who they hire for the services they provide," said Hector Figueroa, who is president of SEIU's East Coast property services affiliate and serves with Rolf on the international union's executive board. "I just cannot comprehend how today, as a labor leader, I would be encouraging the spread of 'independent' work."
Similar concerns helped stall a proposal developed in 2016 by the online home-cleaning company Handy and a pair of New York state legislators, which would have created an optional portable benefits system, and then rewarded companies that chose to contribute by making it easier for them to keep treating their workers as contractors.
Uber hopes working with Rolf and Hanauer to pass legislation in Washington will change the national conversation on these issues, showing how benefits can be decoupled from traditional employee-employer status, and opening a less adversarial phase in the debate over how laws should treat gig-economy workers, a spokesperson said.
The trio, and whichever additional allies they can muster, will try to get a first-of-its-kind system passed into law in Washington state, which is Rolf and Hanauer's home as well as one of the few places where Democrats have unified control of government and legislation on the issue is already being debated.
While the letter is light on details, the spokesperson said Uber wants to gather additional stakeholders and formulate a proposal that could be introduced in next year's legislative session. Among the things a bill should do, the spokesperson said, is make clear that workers like Uber drivers are not employees.
That's what some labor leaders are afraid of. "This type of bogus agreement only gives them cover for exploitation," said New York Taxi Workers Alliance Director Bhairavi Desai. "Selling out to the bosses is not innovative – it's as old as capitalism."
Rolf said any law that were to newly declare a group of workers categorically as not "employees" would be unlikely to make it through Washington's Democratic-controlled legislature.
The Washington wrangling is the latest flashpoint among unions about how much cooperation or confrontation is appropriate with the ride-hailing giant. In 2016, the International Association of Machinists and Uber teamed up to launch an unusual arrangement for Uber drivers in New York: an Uber-funded guild. It's affiliated with the Machinists, holds regular meetings with management and has successfully advocated on issues like creating a tipping option, but it's restricted from going on strike or pursuing full-fledged unionization.
In Seattle, the local Teamsters union in 2015 won city council approval of a first-of-its-kind law giving drivers the option to form a labor group the company would be required to bargain collectively with. The Chamber of Commerce is fighting the law in court, and Uber has been holding meetings and releasing podcasts and TV ads urging its drivers not to join the Teamsters.
Before it's here, it's on the Bloomberg Terminal.
LEARN MORE