Russia Offers Cryptos Legal Cover as Central Bank Dissents
By
Finance Ministry publishes draft bill on cryptocurrencies

Digital assets won't be deemed legal means of payment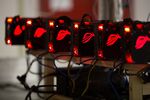 Russia's Finance Ministry published draft legislation to regulate operations using cryptocurrencies, putting it at odds with the central bank's resistance to allowing their exchange into rubles and other currencies.
Licensed operators would be able to validate conversion of cryptocurrencies into other digital instruments as well as rubles or foreign currencies, according to the bill. Digital assets themselves wouldn't be deemed as legal means of payment in Russia, while the proposals also set out measures for domestic regulation of initial coin offerings.
Governments around the world are increasing scrutiny of digital currencies as soaring prices attract everyone from mom-and-pop investors to Wall Street banks. The Russian bill emerged after months of discussion between the country's financial authorities, with central bank officials expressing skepticism over the use of cryptocurrencies.
The International Monetary Fund, the U.S. Treasury, France and Germany are all pushing for greater coordination and regulation of digital currencies at the Group of 20 nations level, as their sharp volatility, soaring value and anonymity attract more investors and in some cases may be used for illicit transfers.
Being Cautious
Russian President Vladimir Putin said this month that the central bank is right to be cautious about the increasingly popular financial instruments and that Russia shouldn't repeat past experiences in which investors were swindled. He called for regulation of cryptocurrencies at an October meeting attended by Bank of Russia Governor Elvira Nabiullina and Finance Minister Anton Siluanov, while telling officials "not to put up too many barriers."
The central bank opposes the conversion of cryptocurrencies into other assets, while ruble exchange should be possible only for tokens issued under Russian law, the regulator said in a statement Thursday.
"Cryptocurrency operations carry risks of money laundering" because it's impossible to track every step in the process, according to the central bank's statement. "This creates new opportunities for dishonest market participants and creates considerable risks for the stability of the financial system."
A legal ban on such operations, however, would create conditions for criminal use of cryptocurrencies, while trading via licensed operators would increase tax revenues, according to the Finance Ministry. Another law that introduces the term "money surrogates" is almost ready and will support the ruble's status as Russia's only legal means of payment, the ministry said.
Buyers, who are not considered as qualified investors under Russian law would have a maximum purchase limit of 50,000 rubles ($895) for any single token issue, according to the draft law.
The ministry published the bill to encourage public discussion before submitting a final draft to legislators, Anatoly Aksakov, chairman of the financial markets committee of Russia's lower house of parliament, the State Duma, said in an interview. The bill may be sent to the Duma next month and be passed by May, he said.
For more on cryptocurrencies, check out the Decrypted podcast:
— With assistance by Anna Baraulina, Olga Tanas, Anna Andrianova, and Alexander Nicholson
Before it's here, it's on the Bloomberg Terminal.
LEARN MORE