Professor Fights Putin's Czech Ally in Key Election
This week's Czech presidential vote is neck and neck and there's much at stake for the country's relations with Europe.
By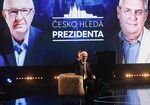 A science professor's attempt to become the next Czech president hardly sounds like a pivotal political event. For Europe's widening divide between east and west, it just might turn into one.
Jiri Drahos is seeking to unseat Russia-supporting President Milos Zeman in a runoff ballot this week. With his academic demeanor, he vows to "return dignity" to a largely ceremonial post his incumbent opponent has marked with a stormy five years clashing with media, fellow politicians and the country's western allies.
Victory would oust a member of the anti-Islamic pantheon of leaders in the European Union's eastern wing and could weaken the position of Zeman-backer billionaire Andrej Babis, the prime minister who is struggling to find support for a government after winning elections last year.
Zeman, 73, an admirer of Russian President Vladimir Putin and China's Xi Jinping, has painted Drahos, 68, as soft on immigration, while Drahos vows to steer the country back to the western values it embraced three decades ago when it escaped the Soviet Union's orbit after the fall of the Iron Curtain.
"I want to show our allies that they can trust us, that we are a reliable partner who firmly and unmistakably belongs in the Euro-Atlantic civilization," Drahos said in a Jan. 18 interview after a rally. "Our mission is to defend democracy and freedom in this country, which are clearly under assault right now."

Polls published ahead of the Jan. 26-27 runoff showed the contenders running neck and neck. While most powers lie with the parliament-backed prime minister and his cabinet, the president can name central bankers and commands the military. The winner of the vote will also have influence over a delicate political situation.
Zeman, who defied parliament early in his term by installing a hand-picked technocrat government against parties' wishes, has vowed to grant Babis a second mandate after he lost a confidence vote last week.
Drahos has also said he can work with the tycoon, but he may show less support for Babis, who has been rejected as a ruling partner by other parties because he's facing fraud allegations in a case of misused EU development funds. He denies any wrongdoing and the turmoil has had little impact on Czech assets. The koruna, the world's best-performing currency in 2017, has gained 0.6 percent against the euro this year.
The professor has been crisscrossing the country of 10.6 million in a last-ditch effort to win voters from Zeman, who won the first round of voting two weeks ago, and has a loyal voter base that frequent scandal, tussles with media and occasional expletives haven't damaged.
Echoing anti-refugee and euroskeptic comments from self-styled illiberal leaders in Hungary and Poland, Zeman has clashed with traditional allies. He closed the door of Prague Castle to the U.S. ambassador after he criticized the Czech president for attending a World War II victory celebration in Moscow during the height of the Ukraine crisis.

Drahos, who chaired the Czech Academy of Sciences, has authored dozens of papers and sings in his church choir. In an effort to depict him as a candidate with no personality, Zeman's spokesman compared him to a potted ficus plant.
But Drahos's soft-spoken manners have resonated with voters like Milada Kolarova, who praised him for being "a gentleman, not like the person sitting at the Castle now" as she listened to his rally in freezing temperatures in town of Klatovy, about 140 kilometers (85 miles) southwest from Prague.
Election results will be published on Saturday afternoon. Zeman's message is strong, however, and his warnings that Muslims will impose Sharia law here, cutting off the hands of thieves and stoning adulterous women, resonates with supporters who want to rely on one of the country's most dominant political figures rather than a career academic like Drahos.
"Nobody has ever heard of him and now he wants to be president," said Jiri Spurny, a 69-year-old former car repairman who's considering voting for Zeman. "I'm worried about where the country is going. What happens if the EU gets to dictate to us who we should have here and who not?"
Before it's here, it's on the Bloomberg Terminal.
LEARN MORE