politics
Mnuchin Considers Visiting Beijing to Discuss Trade and Sanctions
By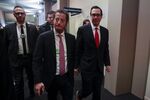 U.S. Treasury Secretary Steven Mnuchin said he's considering a trip to Beijing this year to discuss sanctions on North Korea and how to shrink America's trade deficit with China.
He made the remarks a day after meeting President Xi Jinping's top economic adviser, Liu He, on the sidelines of the World Economic Forum in Davos, Switzerland.
"We talked about what we're doing together in regard to North Korea and the sanctions that we have worked on together at the UN," Mnuchin told reporters. "I discussed a possible trip of mine to China later this year to review with them the sanctions as well as various different opportunities over there. We also talked very candidly about the trade issue."
Read More: China's Man in Davos Is 'The Brain' Behind Economy's Overhaul
The treasury secretary also talked up his relations with Liu. "I have met with him many times. I have had the opportunity to have phone calls with him as well," he said. "We have exchanged views, I think we have a very good and open dialogue."
Before it's here, it's on the Bloomberg Terminal.
LEARN MORE