markets
IMF's Lagarde Urges Mnuchin to Clarify Remarks on Weak Dollar
By
U.S. tax cuts should lead to dollar strengthening: Lagarde

Mnuchin enodorses weak dollar in Davos, driving euro up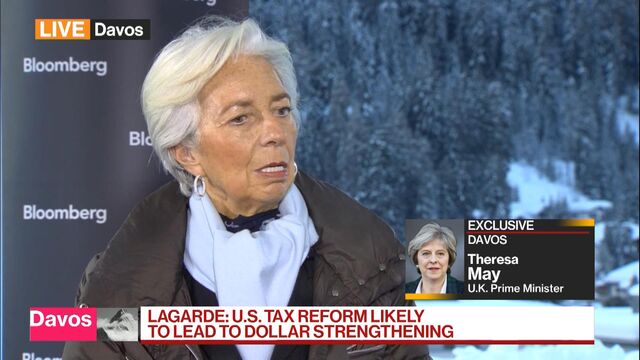 International Monetary Fund Managing Director Christine Lagarde suggested that U.S. Treasury Secretary Steve Mnuchin may wish to explain his comments in which he appeared to back a weak dollar, adding that U.S. tax cuts will probably cause the world's reserve currency to rally. 

"I really hope that Secretary Mnuchin has a chance to clarify exactly what he said," Lagarde said in Bloomberg TV interview with Francine Lacqua and Tom Keene at the World Economic Forum's annual meeting in Davos, Switzerland. "The dollar is of all currencies a floating currency and one where value is determined by markets and geared by the fundamentals of U.S. policy."
The dollar slid to the lowest since December 2014 on Thursday, a day after Mnuchin's endorsement of a weaker greenback at the WEF. The euro also climbed to its strongest against the dollar since 2014.
"Obviously a weaker dollar is good for us as it relates to trade and opportunities," Mnuchin told reporters in Davos. The currency's short term value is "not a concern of ours at all."
Losses for the greenback have mounted since U.S. President Donald Trump's inauguration a year ago, with the currency weakening against every Group-of-10 peer. Lagarde reiterated the IMF's view, presented in its World Economic Outlook this week, that the U.S. tax reform is likely to lead to dollar's strengthening in the medium term.
For many market analysts, Mnuchin's comments represent a stark break from previous U.S. administrations and could provoke pushback from other regions before too long.
"This is a further break away from the 'strong USD' mantra launched in the mid-1990s by Clinton's Treasury Secretary Rubin and adhered to by subsequent Treasury leaders," wrote Credit Agricole CIB strategists led by Valentin Marinov in a note to clients. "Inevitably, the Administration's vocal preference for a weak dollar is likely to raise the risk of global currency wars."
Follow our full coverage of Davos 2018 here.
— With assistance by John Ainger
Before it's here, it's on the Bloomberg Terminal.
LEARN MORE