Trump's Not Done on Trade as Goldman Says Aluminum's Up Next
By
Tariff is 'more likely than not to be imposed,' bank forecasts

LME aluminum prices have advanced more than 20% in past year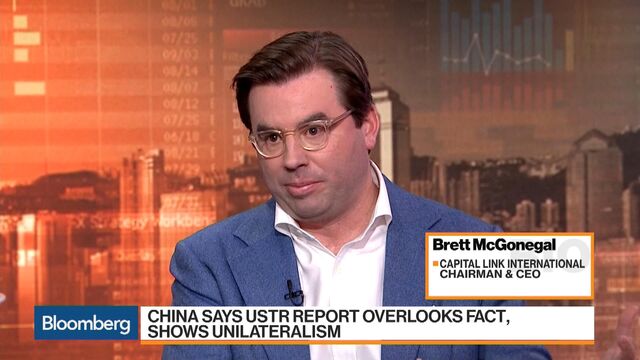 The Trump administration will probably impose a trade tariff on aluminum, according to Goldman Sachs Group Inc., which warned that while the exact form any new levy takes is hard to predict, it may increase U.S. prices of the metal used in everything from cars to cans.
"We think a trade tariff on aluminum is more likely than not to be imposed," analysts including Jeffrey Currie said in a report. "The situation is fluid and there is still great uncertainty associated with the tariff rate, the targeted countries, and potential retaliations from America's trading partners."
U.S. President Donald Trump slapped duties on solar panel and washing machine imports this week, spurring concern the decision may be the opening salvo before moves on other products, especially metals. The rise in global trade tensions has sparked speculation other nations, principally China, may retaliate, leading to a tit-for-tat escalation that endangers global growth. At present, Trump is weighing the findings of a so-called Section 232 study into aluminum imports submitted by Commerce Secretary Wilbur Ross.
"As many have pointed out before, imposing a tariff on primary aluminum alone would be devastating for U.S. semi manufacturers, since they would not be able to compete with cheap Chinese semis if domestic primary aluminum becomes more expensive," Goldman said. Semis are semi-finished products.

Trump's campaign trail rhetoric routinely suggested that U.S. trade agreements were unfair and that he'd act to level the playing field in office. On Friday, he's scheduled to address global leaders assembled in Davos for the World Economic Forum to set out his "America First" philosophy.
LME Rally
Aluminum prices have rallied more than 20 percent on the London Metal Exchange in the past year as top maker China restrained the pace new capacity was being added. Top U.S. producer Alcoa Corp. said this month the administration's condemnation of cheap Chinese aluminum is helping resolve overcapacity in the Asian country even before any measures are implemented.
"A tariff that applies only to China is likely to cause other countries to increase exports to the U.S.," Goldman said. "The net impact would be higher LME prices, lower SHFE prices, and higher physical premium in both the U.S. and other countries. Alternatively, the Section 232 tariff may extend beyond China." SHFE refers to the Shanghai Futures Exchange.
A Section 232 probe determines whether imports pose a threat to national security. After Ross submitted the report to the president on Jan. 22, Trump has 90 days to decide whether he agrees with the findings and, in the event he does, he must take action within 15 days, Goldman said.
At Davos, Commerce Secretary Ross found himself defending the Trump administration's policies. "The Chinese for quite a little while have been superb at free-trade rhetoric and even more superb at highly protectionist behavior," he said, brushing off criticism the U.S. is in retreat.
Any new aluminum levy may not be as harsh as some expect, according to Goldman. "The latest tariffs on solar panels and washing machines turned out to be less severe than most companies had been expecting," it said. "This points to the direction that the final decision on the aluminum Section 232 may also be less dramatic than the 'America First' rhetoric suggests."
— With assistance by Jasmine Ng
Before it's here, it's on the Bloomberg Terminal.
LEARN MORE