Five Things You Need to Know to Start Your Day
Get caught up on what's moving markets in Asia.
By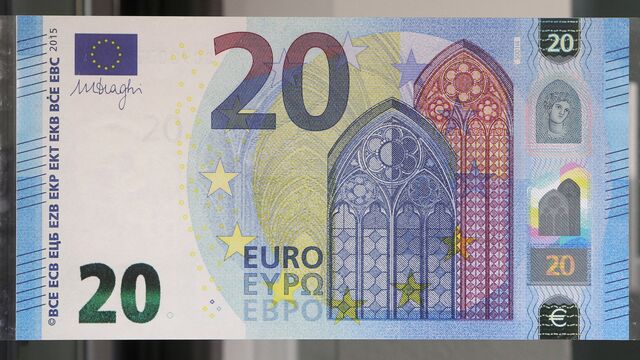 Want to receive this post in your inbox every morning? Sign up here.
U.S. President Donald Trump has arrived at the World Economic Forum in Davos, and is already roiling global markets. ECB President Mario Draghi is an inflation optimist, and China's economy keeps rolling. Here are some of the things people in markets are talking about.
Dollar Drama – This Time From Trump
Well, that changes things. "The dollar is going to get stronger and stronger, and ultimately I want to see a strong dollar," Trump said during an interview with CNBC in Davos. Trump said in the interview, portions of which aired Thursday, that the dollar would gather strength as the U.S. economy continues to grow. Trump said in general he preferred not to discuss currency matters. He spoke after his Treasury Secretary, Steven Mnuchin, had caused a stir on Wednesday with comments that a weaker dollar is good for U.S. trade.
More on Trump in Davos
Even aside from the currency market, Trump has been making his mark from Davos. He offered a positive outlook for the North American Free Trade Agreement after months of threatening to scrap it. On Friday, he is expected to boast about America's economic performance during his first year in office. He'll also seek to persuade the audience in a major speech that his populist, "America First" policies can co-exist with globalism. The president said on Twitter that he plans "to tell the world how great America is" and that "our economy is now booming and with all I am doing, will only get better." Oh, and in case you wondered what George Soros was thinking, he said the Trump Administration is a "danger to the world."
Draghi the Optimist
Mario Draghi expressed renewed conviction that the euro area's recovery will revive inflation, pushing the common currency to the highest in more than three years despite his concurrent warning against sharp moves in the exchange rate. Improving economic momentum has "strengthened further our confidence that inflation will converge to close to but below 2 percent," the European Central Bank president told reporters in Frankfurt on Thursday, adding that domestic price pressures remain muted. "Against this background, recent volatility in the exchange rate represents a source of uncertainty which requires monitoring with regard to its possible implications for the medium term outlook of price stability."  Draghi said that an ample degree of stimulus remains necessary for underlying price pressures to converge with the ECB's aim, but pointed to the variety of its stimulus tools that will help in achieving that.
Let the Good Times Roll
After capping its first full-year acceleration since 2010, China's economy looks to be keeping some of that momentum intact this month, according to the earliest indicators. Sales managers are the most upbeat since July, financial experts are more optimistic and satellite imagery signals that manufacturing conditions are improving for the first time in four months. It's not all good news though, as the outlook is slightly dimmer for smaller enterprises and sentiment in the steel business has been deteriorating, surveys show.
Coming Up…
Friday will offer a slew of data to distract Asian traders from any currency/trade war angst that may be ailing them. They can also console themselves that even after recent pullbacks, all the region's bourses are green YTD outside the Antipodes (Australia and N.Z.). And the MSCI Asia-Pacific looks certain to post its seventh-straight weekly gain for the first time since 2014. As FX desks strive to see if anyone still wants to buy USD, Japan reports on CPI, China details industrial profits and we also get Singaporean unemployment and industrial output, plus a Pakistan rate decision. Davos is expected to put in a rousing finish – in addition to Trump, speakers will include central bank governors Haruhiko Kuroda of Japan and Mark Carney of the U.K., plus IMF Managing Director Christine Lagarde. Also looming large as the day winds on are reports expected to show that the U.K. economy remained subdued and the U.S. economy remained robust in the final quarter of last year.
What we've been reading
This is what caught our eye over the last 24 hours.
— With assistance by Garfield Clinton Reynolds
Before it's here, it's on the Bloomberg Terminal.
LEARN MORE