Draghi Sees Inflation Optimism in Recovery With Eye on Euro
By
Currency gain 'a source of uncertainty' ECB president says

There are 'very few chances' interest rates will rise in 2018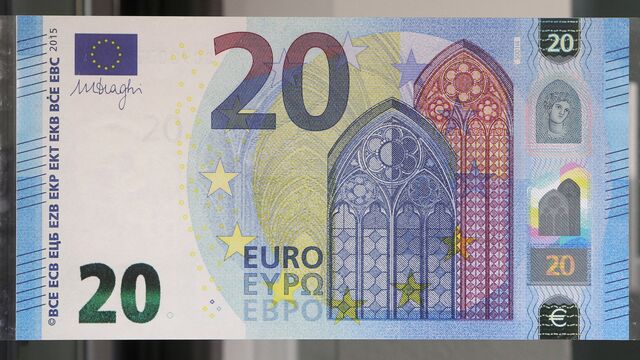 Mario Draghi expressed conviction that euro-area inflation will pick up, pushing the euro even higher despite his warning that the exchange rate is a renewed concern.
The European Central Bank president said the strengthening economy justifies some currency appreciation, while reviving a warning on volatility that hasn't been used since September. He also took a sideswipe at comments from U.S. Treasury Secretary Steven Mnuchin apparently backing a weaker dollar.
Read more: Draghi Strikes Back at Mnuchin in Global Currency War of Words
Improving economic momentum has "strengthened further our confidence that inflation will converge to close to but below 2 percent," the European Central Bank president told reporters in Frankfurt after the Governing Council met on Thursday, adding that domestic price pressures remain muted. "Against this background, recent volatility in the exchange rate represents a source of uncertainty which requires monitoring with regard to its possible implications for the medium term outlook of price stability."

The euro jumped as much as 1 percent to the strongest level since late 2014, and was up 0.9 percent at $1.2525 at 4:33 p.m. Frankfurt time.
Still, it came off its highs after Draghi said he sees "very few chances" that interest rates will be raised in 2018, as some market pricing has suggested.
What Our Economists Say...
"Bottom line is that guidance linking inflation and asset purchases is in the Governing Council's crosshairs and will probably go in March. This sets the stage for asset purchases to stop by year end."

-- Jamie Murray, Bloomberg Economics
Recent currency gains have triggered concern that the downward pressure on prices could complicate the ECB's gradual exit from extraordinary stimulus. Policy makers decided last year to reduce the amount of additional stimulus they pump into the euro-area economy as of this month, but also stressed that their inflation goal remains out of sight until at least 2020.
| ECB Monetary Policy | Jan. 25 decision |
| --- | --- |
| Main refinancing rate | 0 percent |
| Deposit rate | minus 0.4 percent |
| Marginal rate | 0.25 percent |
| Asset-purchase target | 30 billion euros a month until at least September 2018 |
"The Governing Council sees lower risks that inflation will undershoot their forecast, given recent stronger-than-expected growth," said Bill Adams, an economist at PNC Financial Services Group. "The ECB's moderate tone on the exchange rate might be interpreted as a green light for the currency to rise further."
Draghi said the euro's recent gains were "in part because of endogenous reasons, namely the improvement in the economy," as well as "exogenous reasons that have to do with communication, not by the ECB but by someone else."
The greenback registered its steepest slide since March on Wednesday after Mnuchin said "a weaker dollar is good" for U.S. trade. He said on Thursday that he supports free and floating currencies.
Stimulus Tools
Draghi reiterated that an ample degree of stimulus remains necessary for underlying price pressures to converge with the ECB's aim, but pointed to the variety of its stimulus tools that will help in achieving that.
"This continued monetary support is provided by net asset purchases, by the sizable stock of acquired assets, and the forthcoming reinvestments and by our forward guidance on interest rates," he said.
The ECB stuck by its plan to continue buying 30 billion euros ($37 billion) of assets a month until at least the end of September, while keeping interest rates unchanged.
Communication Changes
Draghi also addressed the jump in the euro this month after an account of the Governing Council's previous meeting in December said officials "widely shared" the view that policy guidance could soon be revisited.
"Several members of the Governing Council were surprised by the effect that the reading of the accounts had on the markets, and they asked me to clarify this," he said. "The only discussion that took place was about the need to have a discussion."
In response to whether their had been a discussion on such changes at this week's meeting, the ECB chief said "the discussion hasn't really started."
"We really went through the events since October to now, and trying to basically assess whether something has changed," he said. "And there hasn't been much of a change, other than a continuing strengthening of the economy, to some extent more than expected."
— With assistance by Zoe Schneeweiss, Piotr Skolimowski, Alessandro Speciale, Jana Randow, Catherine Bosley, Craig Stirling, Fergal O'Brien, Brian Swint, Lucy Meakin, David Goodman, Jill Ward, and Iain Rogers
Before it's here, it's on the Bloomberg Terminal.
LEARN MORE