business
Chemours Asked to Test Water for Teflon Agent by "Concerned" EPA
By and
Regulator's letter seeks well tests near West Virginia plant

DuPont spinoff's GenX chemical also an issue in North Carolina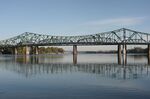 Chemours Co. has been asked by federal regulators to test public and private drinking water supplies in West Virginia and Ohio for a chemical it uses to make products including Teflon.
A Jan. 11 letter from the U.S. Environmental Protection Agency, seen by Bloomberg News, asks for the tests to begin no later than March 31 because the agency is "concerned" that water sources may be contaminated with a chemical known as GenX. The tests will be conducted in communities on both sides of the Ohio River near Chemours's Parkersburg, West Virginia, plant, also known as Washington Works.
The letter cites prior testing and similar issues near the company's plant in Fayettville, North Carolina, where Chemours is supplying bottled water to some residents.
The new tests are another chapter in a long saga of regulatory and legal inquiries into chemicals made by Chemours that are used to produce non-stick, grease-proof and waterproof products. Chemours, spun off from DuPont Co. in 2015, did not immediately respond to a request for comment.
Before GenX, a chemical known as PFOA was used, and then phased out. The class of chemicals, more broadly known as PFCs, have also prompted lawsuits against 3M Co.
PFOA has been linked to health issues including testicular cancer and ulcerative colitis. Pollution from the Parkersburg location spurred personal injury lawsuits and a $671 million settlement; a plant in the Netherlands has also raised concerns about that chemical. Chemours has received a grand jury subpoena for GenX discharges near Fayettville into the Cape Fear river.
Read more: On U.S. rivers, Teflon stokes new fears
The EPA's concern is "based in part upon the fact that GenX has been detected in three on-site production wells and one on-site drinking water well, at the Washington Works facility," the agency said in the Jan. 11 letter. It seeks testing of raw and treated water to see if treatment systems are adequately filtering out the chemical, according to the letter.
In 2013, DuPont stopped using PFOA at the Parkersburg plant, according to the EPA's letter. The same year, DuPont announced plans to spin off certain chemical assets as Chemours.
DuPont, now part of DowDuPont Inc., has agreed to share PFOA liabilities with Chemours. Both companies last year received subpoenas from the U.S. Attorney's Office for the Eastern District of North Carolina regarding discharges into the Cape Fear River.
Shares of Chemours rose 0.2 percent to $53.11 as of 12:02 p.m. in New York. DowDuPont gained 1 percent to $76.76.
Before it's here, it's on the Bloomberg Terminal.
LEARN MORE