politics
Tillerson's State Overhaul Faces Mutiny as USAID Weighs Role
By
Agency frustrated with pace of changes Tillerson wants to make

Senator Corker says changes won't turn out to be 'monumental'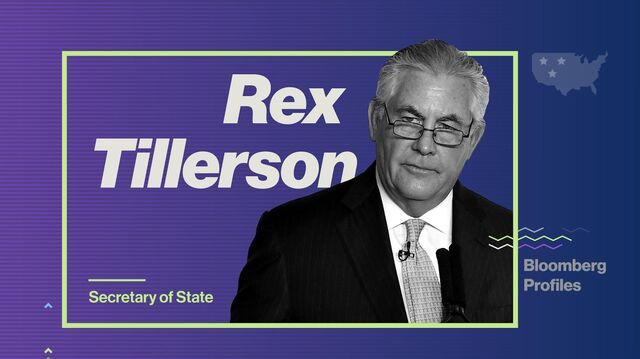 The agency in charge of U.S. foreign aid has put Rex Tillerson on notice about rising frustration over his State Department redesign, the most visible sign yet of the confusion surrounding his bid to reshape American diplomacy.
"Per direction from the Front Office, we are suspending all USAID involvement in the Joint Redesign as of Monday, January 22nd," Jim Richardson, the redesign chief at the U.S. Agency for International Development, said in a Jan. 19 email to senior staff obtained by Bloomberg News. "You should not work on any Joint Redesign activities."
Pressed to explain the email, USAID spokesman Clayton McCleskey said the agency is "currently clarifying the roles and responsibilities of USAID staff who will be working with State on the Redesign, and the exact outcomes and timelines for each project. USAID looks forward to continuing to contribute to the Redesign process, through which we will strengthen both State and USAID."
The contradictory signals reflect increasing discord over Tillerson's redesign, which has been the signature initiative of the secretary of state's term so far but has been clouded by a wave of departures and a lack of clarity over its goals. The restructuring is intended to modernize the department and eliminate overlap but faces resistance within the department and in Congress, where critics say it has contributed to key positions going unfilled and plummeting morale. 
Read how Rex Tillerson is seeking to remake the State Department
Even some of Tillerson's allies on Capitol Hill have questioned why, with the Trump administration facing crises from North Korea to the Middle East, he's made the redesign such a priority. For the former chief executive officer of Exxon Mobil Corp., the idea was a natural -- he led two such initiatives at his former employer plus one with the Boy Scouts of America.
"Having so many things to deal with -- with the White House, with what's happening around the world -- I think that's been a distraction for him," said Senator Bob Corker, the Tennessee Republican who speaks frequently to Tillerson. "On the front end it was a much more ambitious undertaking, and they were going to do far more. The final changes are not going to be monumental, and it's created a lot of bad will."
The confusion was already having an effect this week. Staff from USAID detailed to work on the redesign were absent from meetings where progress was discussed on Wednesday, according to a person with knowledge of the attendees who asked not to be identified.
People familiar with USAID Administrator Mark Green's thinking say there's been broad frustration about communication with Tillerson over the redesign and confusion about its goals. That fits with a deeper battle between USAID and State, which have wrangled over who ought to hold the purse strings for the billions of dollars in foreign aid that the U.S. distributes each year.
Tillerson's Legacy
Tillerson, 65, has heralded the redesign as a process that will define his legacy, and he frequently talks about it with staff at the State Department and when he visits embassies abroad. But his office has regularly shifted expectations over the effort, and now describes it as a modernization drive focused, for now, on upgrading information technology systems and getting rid of duplicative offices and functions.

'Go On Forever'
A department official, who asked not to be identified discussing internal matters, said officials would announce the next steps in the redesign next week now that Tillerson is moving toward implementing its findings. Tillerson's overhaul priorities will also become clearer on Feb. 5, when the department issues its fiscal year 2019 priorities.
Speaking to the U.S. embassy staff in London in September, Tillerson said of his redesign, "If I accomplish that, that will go on forever, and you will create the State Department of the future." He said the effort would be the most important thing he did, though in a later interview Tillerson argued that he had been misconstrued and that hot spots such as North Korea and Iran were obviously more significant.
Corker, who's chairman of the Foreign Relations Committee, doesn't share Tillerson's enthusiasm for reordering the diplomatic bureaucracy.
"It's water that he took on that I wish he hadn't taken on," Corker said.
(
Updates with USAID staff not attending redesign meetings in seventh paragraph.
)
Before it's here, it's on the Bloomberg Terminal.
LEARN MORE