Technology
This $300 Robot Can Weed Your Garden
The pie-size Tertill is waterproof and solar-powered.
By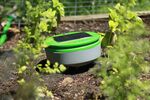 Tertill is a $300 pie-size, waterproof, solar-powered robot designed to roam your garden throughout the growing season, shredding weeds with a miniature weed whacker.
Innovators
1. Shield
A gardener places protective wickets around the seedlings he or she wants to grow.
2. Sense
When Tertill's shell touches a plant, sensors determine if it's taller than an inch, telling the robot to steer clear. As Tertill runs over smaller plants, sensors underneath activate a string trimmer.
Origin
Jones, co-inventor of the Roomba, and MacKean, a mechanical engineer, met in 2010 while working at agricultural robot maker Harvest Automation Inc. They left in 2015 to start Franklin and develop Tertill.
Funding
The team has raised about $450,000, mostly from crowdfunding, and is seeking additional investors.
Market
Jones and MacKean are focused on the home market for now, but they envision expanding into landscaping and farming with larger robots.
Rivals
Other, pricier robotic mowers cut down every plant within a preset path, making them unsuitable for gardens.
Next Steps
Having completed working prototypes, Franklin plans to ship pre-orders in May and new orders later in 2018. John Santagate, research director at analyst IDC, says Tertill's utility and low price make it promising.
Before it's here, it's on the Bloomberg Terminal.
LEARN MORE