markets
Scaramucci Considers Return to SkyBridge, Scraps Vegas SALT Conference in 2018
By
Would like to retain equity in firm and help it grow

Trump acolyte doesn't see himself returning to White House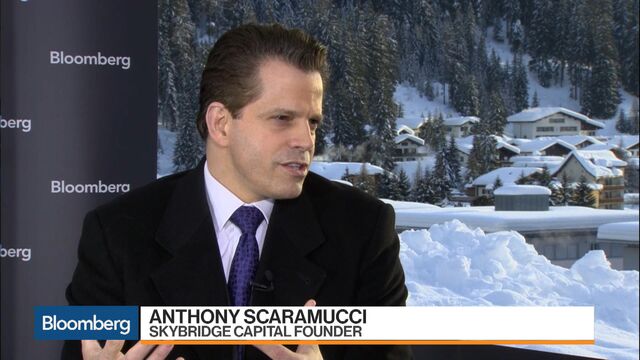 Anthony Scaramucci said he'd like to have a role again in the future of SkyBridge Capital, the fund-of-hedge-funds firm he founded, and scrapped plans to hold his flagship SALT conference in Las Vegas this year.
"If the sale goes through I would like to -- and I've talked to the HNA people about -- retaining some equity in the firm and being active in terms of trying to help the firm's growth and prosperity," he said Wednesday on Bloomberg TV from Davos, Switzerland. Scaramucci last year agreed to sell his stake in SkyBridge to a group including an American subsidiary of Chinese conglomerate HNA Group Co. The transaction is still awaiting approval from the Committee on Foreign Investment in the U.S.
The SkyBridge Alternatives Conference, the annual bash that made him a celebrity in the hedge fund world, won't happen this year because of "the logistics around the closing of the deal," Scaramucci told Erik Schatzker of BTV.
Instead, he intends to take a group on a five-day trip to China for an event he's calling the SALT Platinum Partners Experience. It will introduce participants to business leaders and entrepreneurs in cities including Shanghai and Beijing.
Scaramucci said SALT will return to Las Vegas in 2019 and that he would continue to own 51 percent of the conference business if the sale proceeds. Held annually at the Bellagio hotel, SALT is best known for attracting some of the world's most well-known hedge fund managers, mostly male, as well as its lavish parties and after-parties.
In a radio interview with Bloomberg News earlier Wednesday, he responded to a question about a Financial Times report on groping and harassment of women at a London male-only charity event, predicting that the "seediness" of such events is "over" due to the scrutiny of social media.
Scaramucci, who spent 10 days as communications director for President Donald Trump, also said he doesn't see himself returning to the White House.
"If the sale goes through, I'm still retaining equity in the firm. I'd have to shed that equity to join the White House," he said. Asked if he'd return to SkyBridge if the sale didn't go through, Scaramucci responded, "Possibly, yeah. Why not?" adding that he would remain its largest shareholder.
Still, he said he sees "better than even" odds that the transaction will succeed.
"I don't think selling SkyBridge to HNA is a national security issue for the United States, but if it is I'd like to find out why it is, and someone will have to articulate that to me," he said.
"You know, it's politics. Washington is a funny bird of a place."
Before it's here, it's on the Bloomberg Terminal.
LEARN MORE