Merkel Warns of 'Poison' of Populism in Call for European Stance
By and
German leader's Davos speech counters U.S. on free trade

Cites 20th-century wars as lesson that nationalism won't work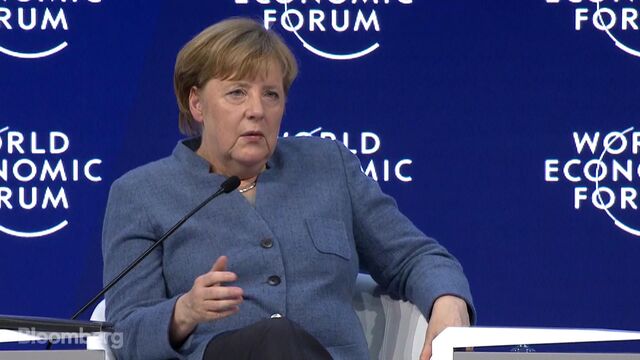 German Chancellor Angela Merkel warned against the "poison" of populism that makes nations turn inward, telling the World Economic Forum her goal is to strengthen joint policy making in Europe and uphold free trade.

Addressing the global elite in Davos, Switzerland, two days before U.S. President Donald Trump, Merkel acknowledged that her own country is increasingly polarized and said there's a need to "take everyone with us" who feels left behind by globalization. Citing the lessons of 20th-century economic conflicts and war, she said nationalism and protectionism aren't the answer.
"We have to advocate for our multilateral approach," Merkel said in her speech on Wednesday. "You need to have the patience to find multilateral solutions and not slip into the apparently easier solution of pursuing national interests. Once you have a national response, at some point you lose the strand of dialog."
Merkel, 63, came to Davos as head of an acting coalition government, four months after winning an inconclusive election that brought a far-right party into parliament for the first time since just after World War II. She was candid about Germany's own difficulties, citing "national polarization that we haven't witnessed for decades" due to the financial crisis and migration.
Trump's Delegation
Hours after Trump's top economic advisers used the Davos meeting to back a weaker dollar and sharpen trade-war talk, Merkel sought to hold the line on her defense of global institutions such as the Group of 20. She touted French President Emmanuel Macron as a partner in strengthening the euro area, including efforts to complete Europe's banking union and upgrade the status of its financial-crisis backstop, the European Stability Mechanism.
"When we see that things aren't equitable, we look for multilateral solutions rather than unilateral ones that simply promote isolation and protectionism," Merkel said. "That's why it's so necessary that Germany quickly forms a government."
One reason Merkel is struggling to put together a government coalition for her fourth term is the rise of the anti-immigration Alternative for Germany party, which helped erode Germany's political center in the election in September.
Far-Right 'Poison'
Merkel stuck to her guns, saying "right-wing populism" draws the wrong lessons from history.
"We're trying to get it under control, but it's a poison that appears whenever you have unsolved problems," she said.
On Brexit, Merkel said Germany wants a good partnership with the U.K. once it leaves the European Union but stood firm against easing the conditions for British access to the European market.
"We will be clear on the exit question because the issue of access to the internal market is linked to freedom of movement," she said. "We can't make any compromises there."
— With assistance by Rainer Buergin
Before it's here, it's on the Bloomberg Terminal.
LEARN MORE