markets
Malaysia's Central Bank May Be Ready to Raise Rates
By
16 of 20 economists predict key rate to rise to 3.25% from 3%

A hike would make Malaysia the first in Southeast Asia to move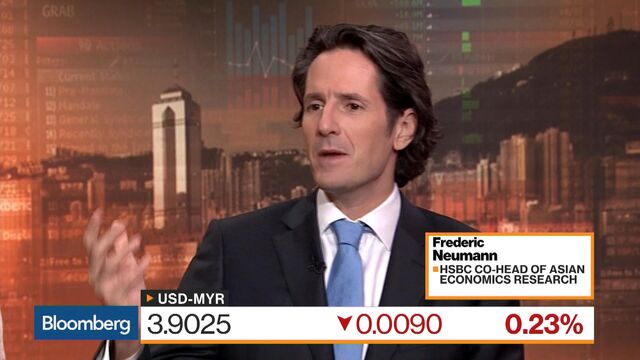 Not since 2010 has Malaysia's central bank faced as many calls from economists to raise interest rates as it does now.
After years of low rates, Bank Negara Malaysia is set to become the first central bank in Southeast Asia to tighten policy on Thursday, with 16 of the 20 economists surveyed by Bloomberg predicting a 25 basis-point increase in the benchmark rate to 3.25 percent. That's the highest number calling for a rate hike since May 2010, when all but one of 22 analysts correctly predicted an increase.
A surprise rebound in economic growth last year and rising fuel prices are putting policy makers on guard for inflation risks, though a looming general election complicates the timing of a rate move. If the central bank tightens on Thursday, it'll be the first in Asia to do so after South Korea's rate increase in November, and shows the measured approach policy makers in the region are taking in following the U.S. Federal Reserve's hikes.
"It's more of taking a relatively pre-emptive measure," said Rahul Bajoria, a senior economist at Barclays Plc in Singapore. "If you just look at the broad macro numbers, both growth and inflation, there is enough reason for the central bank to think about adjusting the degree of monetary accommodation."

Investors raised their bets of a rate increase in Malaysia after the central bank signaled in November it may consider adjusting policy given the strength of the economy. One-year interest-rate swaps jumped to 3.67 percent that month, the highest since February 2016, and were trading at 3.64 percent on Wednesday.
Consumer prices rose 3.5 percent in December from a year earlier, data showed on Wednesday, in line with the median estimate in a Bloomberg survey of economists. The government's inflation forecast for this year is 2.5 percent to 3.5 percent, compared with 3.7 percent last year.
Helped by a global trade recovery and resilient domestic demand, Malaysia's economy is projected to grow as much as 5.5 percent in 2018, according to the government.
Strong growth elsewhere in Southeast Asia is also fueling calls for tighter monetary policy, with some economists forecasting the Philippine central bank will raise interest rates as early as the first quarter.
Click to read: Philippine Growth Above 6% Fuels Market Talk of Rate Hikes
Election
In Malaysia, the uncertainty over the timing of a general election that must be held by August could prompt the central bank to delay a rate move, said Mohd Afzanizam Abdul Rashid, the chief economist of Bank Islam Malaysia Bhd. in Kuala Lumpur. The central bank last raised its policy rate in 2014.
"The case for higher rates is valid and it's building up," said Mohd Afzanizam, who expects the central bank to keep policy unchanged on Thursday. "The main issue now is the right timing."
The recent appreciation of the ringgit could also ease inflationary pressure, especially for businesses whose raw materials are from abroad, Mohd Afzanizam said. The ringgit has gained more than 3 percent against the dollar this year, the best performer in Asia.
Bank Negara could delay the rate increase to March as upcoming data may show a slight dip in inflation in the first quarter, said Frederic Neumann, co-head of Asian Economics Research at HSBC Holdings Plc in Hong Kong, who is also predicting no rate move today.
"Central bankers anywhere don't like to change policy too close to an election, that's true in the U.S., that's true in most Asian countries," said Neumann. "But to be fair to Bank Negara, it's not pressing, it's not an urgent need to hike. So they can afford to still sit and wait for a bit more data to come in, see what's happening with the election cycle."
— With assistance by Michael J Munoz
Before it's here, it's on the Bloomberg Terminal.
LEARN MORE