GOP Lawmaker Wants to More Than Double High-Skilled Worker Visas
By and
Hatch says his bill could be a part of immigration measure

H-1B system would allow as many as 195,000 foreign workers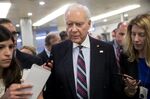 Senator Orrin Hatch introduced a bill on Thursday that would more than double the maximum number of temporary visas offered to high-skilled workers from overseas.
The measure by would allow as many as 195,000 H-1B visas based on demand, an increase of 110,000.

The legislation, however, may face opposition from the Trump administration. During his campaign for president, Donald Trump called the high-skilled H-1B system a "cheap labor program" that takes away jobs from Americans.
"High-skilled immigration is merit-based immigration," Hatch, a Utah Republican, said Thursday on the Senate floor, referring to the focus on the highly-skilled immigrants. "It's immigration targeted at the best and the brightest and the most highly educated."
Hatch said in an interview Wednesday that the legislation could be folded into an immigration measure now under discussion by lawmakers that would protect undocumented immigrants brought to the U.S. as children -- the subject of a partisan battle in Congress that precipitated a three-day government shutdown that ended Monday.
"We also need to do something about border security and interior enforcement so we don't end up back in the same place 20 years from now, but we can walk and chew gum at the same time," he said from the floor.
Citizenship Path
Trump said Thursday that he's open to giving as many as 1.8 young undocumented immigrants a path to citizenship in an immigration deal the White House will be negotiating with Congress.
The visa measure, which Arizona Republican Jeff Flake is co-sponsoring, is a top priority of the U.S. Chamber of Commerce and tech companies such as Alphabet Inc.'s Google and Facebook Inc. who want access to more skilled workers.
"The tech sector's lifeblood is our employees," Microsoft Corp. President Brad Smith said in a statement released by Hatch's office. "Our future – and the competitiveness of the entire U.S. tech sector – requires that we recruit some of the best and brightest in the world so they can work closely with employees born and raised in the United States."
Program's Purpose
Under the current rules, American businesses can apply to use the H-1B program to employ foreign workers with highly-specialized knowledge in areas like science, engineering and computer programming fields.
The proposal by Hatch, chairman of the Finance Committee and the longest-serving Republican in the Senate, would increase the number of visas offered through the H-1B program from a maximum of 85,000, while also giving holders of advanced degrees a bigger priority in the selection process.
"This bill really encapsulates how the tech industry thinks the U.S. high-skilled immigration system should look to keep us competitive in the global marketplace and allow us to attract and retain world-class talent," said Andy Halataei, senior vice president of government affairs at the Information Technology Industry Council, a trade group that counts Google, Intel Corp., Microsoft Corp. and other tech companies among its membership.
"This bill allows us to start by keeping the people that we educate here in the United States instead of forcing them to leave and go compete against us in other countries," he said, adding that American science and technology education doesn't produce enough graduates to keep up with job demand.
Critics Concerned
The legislation, however, has its critics. Paul Almeida, president of the Department for Professional Employees, AFL-CIO, said it would more than double the size of the H-1B program without adequate protections for Americans or H-1B workers. The proposal would allow corporations to keep using the H-1B program to "lower standards, outsource and offshore good jobs, and pay H-1B workers below market wages in arrangements where employers hold far too much power," Almeida said in a statement.
Hatch, who plans to retire when his term ends early next year, previously introduced a version of the legislation with bipartisan support. Democratic Senator Chris Coons of Delaware, who co-sponsored the previous version, was said to have helped draft the new legislation but was not immediately signing on, according to two people familiar with the matter.
Lawmakers Split
Lawmakers have been split largely along partisan lines over immigration, most recently over the fate of 690,000 undocumented immigrants who have been protected under a soon-to-end program called Deferred Action for Childhood Arrivals, or DACA. Democrats had demanded that spending legislation include shielding those immigrants from deportation, while many Republicans objected. Lawmakers passed the spending measure without dealing with the issue and are now seeking to negotiate a compromise.
A comprehensive immigration bill in 2013, which Hatch supported, also would have expanded the H-1B program. It collapsed when then-House Speaker John Boehner refused to bring it to a vote. Republicans who supported the measure also faced a backlash from voters who wanted to restrict immigration.
In addition to the provisions for high-skilled immigrants, the legislation would eliminate caps on how many permanent residents can come from a particular country -- a provision that has often stymied workers from India and China. It would also create more exemptions from an overall cap on those authorized to live and work in the U.S. permanently, including for some family members and those with advanced degrees in science and technology.
"There's a worldwide demand for highly skilled employees, and when they have their choice of places to go, they're going to want to know that they can take their spouse with them and their children with them and that their spouse will also be able to work and contribute," said Halataei of the tech trade group.
The bill also would expand eligibility of spouses of the H-1B holders to work. The Department of Homeland Security plans to issue a proposal to remove the work eligibility of the spouses, according to its fall 2017 agenda.
— With assistance by Sahil Kapur
Before it's here, it's on the Bloomberg Terminal.
LEARN MORE