China's JinkoSolar says 30% tariff is 'better than expected'

Hanwha Q Cells plans to diversify sales to avoid U.S. duties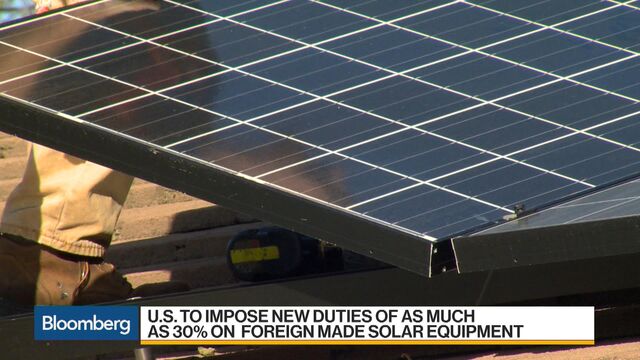 Solar companies from the U.S. to Asia were breathing a collective sigh of relief on Tuesday after President Donald Trump announced tariffs on U.S. imports that, at 30 percent, were lower than most companies had feared.
In China and South Korea, panel makers had been bracing themselves for a bigger blow since October, when the U.S. International Trade Commission recommended a 35 percent tariff. JinkoSolar Holding Co., the world's largest producer of solar panels and China's biggest exporter, called the levy announced Monday "better than expected." The main U.S. solar trade group, which has warned of massive job losses and billions of dollars of investments killed, said the decision showed "some restraint."
The duties are the latest step by Trump that may undermine the economics of U.S. renewable energy, but they're unlikely to raise costs of imported equipment far beyond recent levels. That's because panel prices were already rising as the market priced in looming tariffs and some developers began hoarding. The duties also probably won't be enough to deter some Asian imports or encourage companies to build more plants in the U.S., according to Bloomberg New Energy Finance.
A 30 percent tariff "isn't that significant and they might give up those plans," said Jiang Yali, a Hong Kong-based BNEF analyst. "If you compare building a new plant in the U.S. or in Southeast Asia, importing from Southeast Asia is still a better option."
Trump signed an order imposing the tariffs in a White House ceremony Tuesday, declaring that the U.S. won't be take advantage of anymore. He predicted the duties would result in "a lot of plants built" in the U.S. and "a lot of workers, lot of jobs."
While analysts including ClearView Energy Partners LLC have warned of greater risks to the energy industry if nations establish their own trade barriers against the U.S. in response, Trump said "there won't be a trade war." The only thing there will be, he said, are stocks rallying.
Indeed, U.S. rooftop panel installers Vivint Solar Inc. and Sunrun Inc. led solar stocks higher Tuesday. Vivint rose 6.3 percent to $3.78 at 2:27 p.m. in New York, after earlier climbing as much as 9.9 percent. Sunrun gained as much as 8.8 percent. They were among the biggest gainers in the Wilderhill New Energy Global Innovation Index.
But the rally was less because of the tariffs and more because they weren't as bad as Wall Street projected them to be. The decision will increase installers' equipment costs, but they're lower than the industry expected, said Jeffrey Osborne, an analyst at Cowen & Co.
"It will be a relief to installers and not so bad for Asia's exporters," he said. "This wasn't a nuclear decision from Trump."
Solar-makers in China, the world's biggest producer, have already spent years dodging trade barriers by shifting production to Southeast Asian countries including Malaysia, Thailand and Vietnam, that weren't subject to the same levies. About 13 gigawatts, or one-tenth of Chinese companies' capacity, is in the region, according to BNEF.
A 30 percent tariff on solar module imports would equate to an added cost of about 10 cents per watt, which would put the imported panels roughly on par with the current U.S. price, according to BNEF's Jiang. The U.S. bought $3.7 billion worth of panels in the first 10 months of last year, more than 90 percent coming from Asia.
Canadian Solar Inc., which is based in Ontario and produces panels in Asia, and Shanghai-based panel maker ReneSola Ltd., initially rose Tuesday after the decision. ReneSola's American Depository Receipts rose less than 1 percent to $2.81 at 1:45 p.m. in New York. Canadian Solar fell 1.1 percent to $15.59 after earlier rising as much as 2.1 percent.
To read more about the new solar equipment tariffs, click here.
Major solar cells and module exporters will be affected by the tariff -- especially Jinko, JA and Trina Solar Ltd. -- but the impact will probably be limited to the short-term since the tariff was expected, said Robin Xiao, an analyst at CMB International Securities in Hong Kong. Liu Yiyang, deputy secretary-general of China Photovoltaic Industry Association, said every nation will be affected by new tariffs, though they were in-line with expectations.
Here are some other reactions from Asian manufacturers:
Trina Solar plans to meet demand from U.S. customers from plants in Thailand, Vietnam and Malaysia, according to Chief Executive Officer Gao Jifan; the U.S. has limited production capacity so it will still need to seek supplies from overseas and duties will raise costs for end users of renewable energy in the U.S., he said.
South Korea's Hanwha Q CELLS Co. plans to diversify sales and look for other markets to avoid the tariffs, according to a company official who asked not to be identified because of internal policy. South Korea plans to file a petition with World Trade Organization against the U.S., Trade Minister Kim Hyun-chongsaid separately.
Taiwain's Neo Solar Power Corp. said in an email that the tariff will increase costs but comes in "slightly lower than expected." The company will study the possibility of building plants in the U.S., which accounted for between 5 percent to 10 percent of its revenue in recent years, it said.
Shunfeng International Clean Energy Ltd., the Chinese parent of the company that set the recent U.S. trade case in motion, Suniva Inc., saw an immediate boost on Tuesday. The company's shares in Hong Kong rose as much as 5.2 percent, the biggest intraday gain in a month, before closing 2.6 percent higher.
China's GCL System Integration Technology Co. fell as much as 1 percent in Shenzhen on Tuesday, while Taiwan's Neo Solar Power Corp. rose as much as 3.5 percent before closing unchanged. South Korea's Woongjin Energy Co. dropped as much as 9.4 percent before paring its loss to 1.6 percent. Hanwha Q CELLS' American depository receipts added 0.7 percent Monday.
ReneSola maintained that panel prices will continue to fall "once the settlement is absorbed through the rest of 2018."
— With assistance by Adela Lin, Heesu Lee, Dan Murtaugh, Jim Efstathiou Jr, Jennifer Jacobs, Feifei Shen, and Chisaki Watanabe
Before it's here, it's on the Bloomberg Terminal.
LEARN MORE