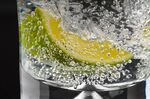 Here's a fun fact: Easyjet Plc sold 900,000 bottles of premium British tonic water Fever Tree during the Christmas quarter, or one for every twenty passengers it carried. While not everyone ordered a gin accompaniment, this is surely another data point confirming Britain is experiencing a craze for the spirit. 
But it's also evidence that the budget carrier's ancillary revenue strategy is working. Overall, ancillary sales, which include checked bags, allocated seating and in-flight transactions jumped 20 percent year-on-year in the fiscal first quarter, or more than double the rate of passenger growth. These extras now comprise almost 1 billion pounds ($1.4 billion) in annual revenue, or one-fifth of total sales, slightly below Ryanair Plc.
Investors' perennial concern with the airlines is that they'll  be tempted to engage in fare battles. Currently, prices are rising due to Monarch Airlines Ltd and Air Berlin Plc's insolvency, which took capacity out of the market -- but that wasn't the case for much of last year when low fuel prices encouraged a seats splurge. By growing ancillary revenues, Easyjet is increasing the chunk that won't be as vulnerable to price erosion if cut-throat competition resumes. If its passengers all get a bit sozzled in the process, investors won't mind a bit.
There's an irony here, though: budget airlines were a big reason why legacy carriers like British Airways began abolishing expensive frills like free food and alcohol. Now, Easyjet and rivals are leading the charge to make flying a bit more pleasurable again -- only passengers who want that will have to pay for it.
Food and drink offerings on low cost airlines didn't used to be much to write home about: if a long delay forced you to consult the in-flight menu, a tepid panini 1  and bag of potato chips was probably the most you could look forward to.
Now, Easyjet's "bistro" menu features a hummus and falafel wrap and a "rainbow" multigrain salad. A "mezze snackbox" includes green olives, rosemary crackers and baklava. If gin's not your thing, you can knock back an Aperol Spritz or Glenfiddich select cask single malt.
If this sounds like contents of a Waitrose 2  shopping trolley, that's deliberate: though its plane tickets don't cost much, Easyjet's typical customers are a bit posher than Ryanair's (or like to think they are). If Easyjet is to persuade them to purchase food or merchandise onboard, it's learned it needs to offer them something a bit fancier than just a KitKat (Similarly, Easyjet's merchandise cart now includes items like Kiehl's face cream and Ray-Ban sunglasses).
Of course, not everyone likes to be bothered when they're on a plane, which is why Easyjet is stepping up efforts to sell ancillary products and services via its website and on mobile. It's worked out, for example, that some passengers would be prepared to check in their hand luggage for a small fee to avoid having to go through the maddening experience of unpacking it in airport security, or finding a space for it in the plane's crowded overhead bin (providing, that is, they can get the bag back relatively promptly when the plane lands) 
Getting airline passengers to buy other stuff isn't straightforward, though. Here's the way a former Easyjet executive summarized the problem at an investor meeting in September:
The way airline websites tend towards today is that you buy a seat and then we say, "and would you like, and would you like, and would you like, and would you like?", and the consumer gets very well trained in pressing continue, continue, continue, continue.
The solution, Easyjet thinks, is to make better use of the oodles of data it collects on customers to anticipate their wants and needs. If airlines get this right, there's an opportunity to boost ancillary revenues still further. Cheers to that. 
Yes, the singular form is really panino, but we Brits tend to overlook the finer points of Italian grammar. 
Before it's here, it's on the Bloomberg Terminal.
LEARN MORE