markets
Yen and Bond Traders Split on Whether BOJ Will Taper in 2018
By and
Currency has risen on most days since debt purchases were cut

BOJ's operations to become more difficult than last year: BNP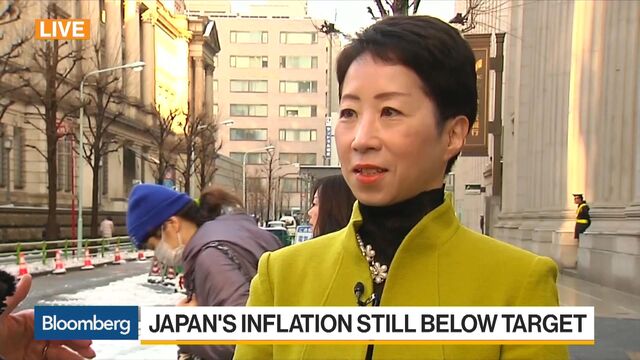 Japanese bond investors say yen bulls betting that the central bank is moving toward tightening its ultra-loose policy this year will likely be in for a disappointment.
Any moves by the Bank of Japan to cut debt purchases or raise its targeted yield level from zero percent will be aimed at giving itself leeway to continue with its easy monetary stance as global borrowing costs rise and the economy improves, they argue. The BOJ isn't ready to start normalizing policy yet, Daiwa SB Investments Ltd. and JPMorgan Asset Management Japan Ltd. say.
With the U.S. and Europe starting to roll back stimulus, the BOJ has come under increased scrutiny as Japan's economy has expanded for seven straight quarters. The dichotomy in expectations of the currency and debt markets have been clearly seen as the central bank cut bond purchases on Jan. 9 and tweaked its inflation language Tuesday. While the yen has gained on both moves, the 10-year yield has barely budged.

"While domestic bond players won't see a 10-year target shifting up by 20 or 30 basis points as a tightening, foreign currency players will see it as a game changer," said Shinji Kunibe, general manager and head of fixed-income at Daiwa SB Investments Ltd. in Tokyo. "JGB market players see the lack of a pickup in inflation meaning basically no change to the yield curve control framework."
BOJ Meeting
The yen climbed as much as 0.3 percent to 110.56 against the dollar Tuesday after the BOJ said in its latest outlook statement that inflation expectations had stopped falling. On the other hand, government debt futures advanced and the 10-year yield fell 0.5 basis point as the central bank's decision to maintain stimulus meant a lack of hawkish impetus for bond traders.
BOJ Governor Haruhiko Kuroda introduced a policy controlling the nation's yield curve in 2016 in a bid to get to a 2 percent inflation target. While a minority of policy makers are raising the need to eventually start discussing normalization, officials expect the stimulus program to continue for some time, people with knowledge of the discussions said last week.
While yen traders had jumped on BOJ's cut in purchases of long-term debt as evidence of unwinding, bond investors say the central bank is just reducing purchases as its market presence has become too large.
"The BOJ will keep reducing bond purchases as that's the reason for introducing the yield curve control," said Genji Tsukatani, portfolio manager at JPMorgan Asset Management in Tokyo. "There is the market liquidity issue and the issue of BOJ's balance sheet to consider."
'More Difficult'
Tuesday's meeting is the next-to-last before Kuroda's term expires in April. He is widely expected to be nominated for another term.
"I expect some change when the new regime starts, but any action will be a fine-tuning," said Jun Fukashiro, senior fund manager at Sumitomo Mitsui Asset Management Co. "Even if the BOJ tweaks the 10-year yield target, it won't be a change to the current yield curve control policy. It isn't tightening, but is aimed at extending the life of the present accommodative stance."
Even so, the BOJ's tweak to purchases was enough to embolden some investors to go long on the yen, with Singapore-based hedge fund Kit Trading Fund Ltd. predicting the currency will appreciate to 100 per dollar.
All of this suggests that the central bank's actions could become a source of volatility for investors this year and lead to a pickup in trading activity. Speculation over BOJ policy may help steepen the curve slightly and reduce the odds of the 10-year yield becoming negative.
"The BOJ's operations will become even more difficult than last year," said Yusuke Ikawa, Japan strategist at BNP Paribas Securities Ltd. in Tokyo. "It needs to balance its efforts to stamp out expectations for higher yields amid upward pressures on overseas yields and its long-term stance of cutting back bond buying."
(
Adds details from Tuesday's meeting in the third and fifth paragraphs.
)
Before it's here, it's on the Bloomberg Terminal.
LEARN MORE