politics
SpaceX Keeps U.S. Air Force's Confidence After Satellite's Loss
By
No need to change SpaceX's certification, commander says

Air Force now evaluating biggest launch contract to date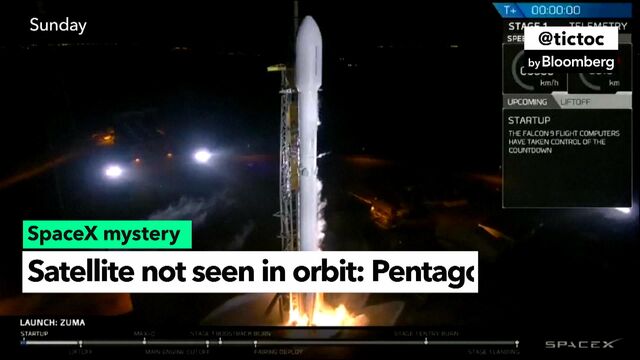 The U.S. Air Force command that certified Elon Musk's Space Exploration Technologies Corp. for military missions says it remains confident in the company's capabilities despite the disappearance this month of a classified satellite it launched.
"Based on the data available, our team did not identify any information that would change SpaceX's Falcon 9 certification status" after "a preliminary review of telemetry that was available to us from" the Jan. 7 launch, Lieutenant General John Thompson, commander of the Space and Missile Systems Center, said in a statement to Bloomberg News.
While Thompson's comments were carefully qualified -- he emphasized that "the Air Force will continue to evaluate data from all launches" -- they bolstered SpaceX's position that its Falcon 9 rocket apparently "did everything correctly" in the mission code-named Zuma.
That may increase scrutiny of Northrop Grumman Corp., which oversaw the mission and built the satellite as well as the coupling to release it from the second-stage rocket.
Northrop has repeatedly declined to discuss its role in the mission. Spokesman Tim Paynter has said "we cannot comment on classified missions."
Boeing-Lockheed Competition
SpaceX was certified by the Air Force in 2015 to compete for military launches against United Launch Alliance, a joint venture of Boeing Co. and Lockheed Martin Corp. For Musk, who also heads the electric-vehicle manufacturer Tesla Inc., it was a hard-won victory against what he portrayed as a government-blessed monopoly.
SpaceX remains eligible to compete for 11 launches through fiscal year 2019, including a looming winner-take-all contest for three Global Positioning System III missions now in source selection. SpaceX has already received two of three contracts in which it competed against United Launch Alliance.
Before the Zuma mission, which was launched for an undisclosed U.S. agency other than the Air Force, Northrop Grumman spokesman Lon Rains said the launch represented "a cost-effective approach to space access for government missions." The U.S. "assigned Northrop Grumman the responsibility of acquiring launch services for this mission. We have procured the Falcon 9 launch service from SpaceX."
"Northrop Grumman realizes this is a monumental responsibility and we have taken great care to ensure the most affordable and lowest-risk scenario for Zuma," he said then.
Thompson's remarks were the first substantive public comments from the U.S. military about the missing satellite. "I would have to refer you to SpaceX, who conducted the launch," Defense Department spokeswoman Dana White said repeatedly in a Jan. 11 briefing at the Pentagon, citing "the classified nature of all of this."
Asked what investigation is being conducted to ensure accountability for the loss of a costly payload, White told reporters she will "come back to you on that."
Lieutenant General Arnold Bunch, the Air Force's top uniformed acquisition official, said in a separate interview, "I can't say a whole lot about what all happened" but for "anything that goes forward" in terms of a formal investigation "we'll be involved in the process" of analyzing data.
— With assistance by Dana Hull
Before it's here, it's on the Bloomberg Terminal.
LEARN MORE