politics
Slovenia Prepares to Recognize Palestine After Trump Move
By , , and
Foreign Minister says it's the right time to back Palestinians

U.S. set to recognize Jerusalem as Israeli capital in 2019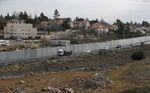 Slovenia is preparing to recognize Palestine as a sovereign state next month as Palestinian leader Mahmoud Abbas urged European Union countries to do so, reflecting concerns about U.S. President Donald Trump's declaration that Jerusalem is Israel's capital.
Slovenia would join Sweden as the second EU member to recognize Palestine among the bloc's 28 states, Delo newspaper reported Monday, citing Foreign Minister Karl Erjavec. Debates on whether to acknowledge the State of Palestine are also happening in Portugal, Ireland, Belgium and Luxembourg, according to the Ljubljana-based newspaper. Since 1988, 136 countries have recognized the State of Palestine at the United Nations, where it has the status of "non-member observer state."
Slovenia, an EU and NATO member of 2 million people, has said it wants to pursue a more independent foreign policy in the 28-member bloc, which has at times struggled to formulate a common approach to global issues. Trump, whose wife Melania hails from Slovenia, decided in December that the U.S. will move its embassy from Tel Aviv to Jerusalem. The decision is seen as an obstacle to create a separate state from Israel for the Palestinians, who see Jerusalem as their capital too.
"The relocation of the U.S. embassy means a move away from the two-state solution," Erjavec said, according to Delo. "I think now is the right time for additional support for Palestine."
A recognition of Palestine as a state would bolster prospects for peace with Israel, Abbas said Monday after a lunch with foreign ministers, including Erjavec, in Brussels and called on the EU to "swiftly" move to action.
"This would encourage the Palestinian people to keep hoping for peace and to wait until peace is brought about, and it will open the doors to peace," Abbas told reporters in Brussels during remarks interpreted into English. "There is no contradiction between recognition and the resumption of negotiations."
U.S. President Trump will underline his recognition of Jerusalem as Israel's capital by transferring the U.S. embassy there from Tel Aviv in 2019, Vice President Mike Pence told the Israeli parliament.
"In the weeks ahead our administration will advance its plan to open the U.S. embassy in Jerusalem, and that United States embassy will open before the end of next year," Pence said in a speech to the Israeli Knesset. Trump had directed the State Department to "immediately begin preparations" for the move, Pence said.
The final decision on acknowledging the State of Palestine by Slovenia lies with lawmakers in Ljubljana after a formal proposal is made by Prime Minister Miro Cerar's cabinet. The Adriatic nation considered a similar move as early as 2014 but then changed its mind after terrorist attacks in France and Belgium a year later.
(
Updates with Abbas comment from first paragraph.
)
Before it's here, it's on the Bloomberg Terminal.
LEARN MORE