politics
Shutdown Continues as Democrats Demand Firmer Immigration Pledge
By and
Federal agencies start workweek by carrying out closing plans

Weekend of negotiations yields no breakthrough on immigration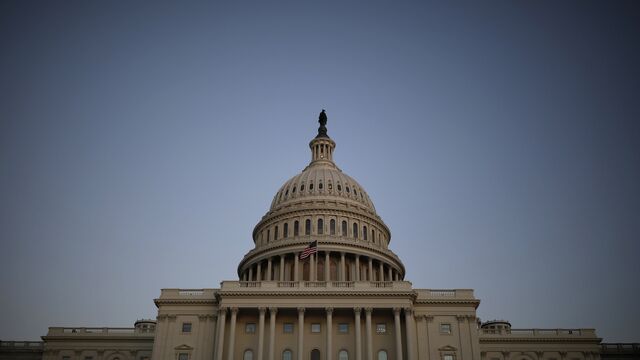 Senate Democrats cast doubt Monday on hopes for a quick resolution to the government shutdown as they demanded a more binding promise from Majority Leader Mitch McConnell on an immigration deal he proposed.
"Hopefully we can resolve this in the next day or two," Minnesota Democrat Amy Klobuchar told reporters after emerging from a bipartisan meeting of Senate moderates. "I would just hope it gets resolved as soon as possible, and I can't tell you what day."

Independent Angus King of Maine said that ending the shutdown, which is extending into its third day, will rest in large part on McConnell, who said Sunday night that his "intention" would be to begin a debate on immigration in the next few weeks.
"Well, I think the first thing he needs to do is strengthen his statement from last night," King said. "I would much rather have him say 'I commit' or 'I will move to,'" he said.
Republican moderates also said that the GOP leader needed to be more precise about his offer.
"I think there's a recognition getting to the debate on immigration is an important and that sooner is better that later," Senator Lisa Murkowski, an moderate Republican from Alaska, told reporters as she emerged from a bipartisan meeting. "But there is also a recognition that we also have the practical realities of the calendar so how that all works will be up to the leaders to determine."
Many more Americans will begin feeling the repercussions of a shutdown that officially began at 12:01 a.m. Saturday after most government offices had stopped work for the weekend. The widening disruption intensifies frantic efforts by Republicans and Democrats to blame one another for the deadlock and may harden the determination of lawmakers to gain leverage from the moment.
McConnell scheduled a vote at noon Monday that could end the shutdown just as it begins to take hold, but it's unclear whether enough Democrats will support an immigration deal he offered late Sunday.
McConnell, a Kentucky Republican, and Democratic leader Chuck Schumer of New York met Sunday after a bipartisan group of more than 20 Senate moderates spent the day trying to work out a funding deal to prevent the shutdown from extending into the week.
But when McConnell stepped to a podium on the Senate floor shortly after 9 p.m. Sunday, it wasn't to announce a deal. It was to say the Senate would vote Monday to advance a plan that would fund the government through Feb. 8.
For Investors Used to Histrionics, Shutdown Is One More Sideshow
Investors took the news of the impasse in stride. The dollar is weaker against most major currencies while Treasuries halted a selloff and U.S. equity futures moved between losses and gains. The benchmark 10-year Treasury yield was slightly lower at 2.64 percent and the S&P 500 Index was little changed in Monday morning trading.
McConnell offered a concession to Democrats by saying it was his "intention" to permit a Senate a vote on an immigration measure after Feb. 8 if the the government was still funded.
'Step Back'
"Let's step back from the brink," McConnell said. "Let's stop victimizing the American people and get back to work on their behalf."

Democrats, who had sought firmer guarantees from McConnell, weren't willing to accept his terms.
"We've seen this movie before," Senator Richard Blumenthal, a Connecticut Democrat, told MSNBC Monday morning. He said the Senate has previously passed comprehensive immigration reform "and then there was no vote in the house" so "it must be part of this budget negotiation."
But the move was enough for two key Republicans -- Senators Jeff Flake of Arizona and Lindsey Graham of South Carolina -- to drop their prior objections to a stopgap funding package. Seven more senators would need to change their position in support of McConnell for the government to reopen.
House Majority Leader Kevin McCarthy of California told colleagues that the chamber will take up whatever the Senate passes, according to a Republican House member. The measure likely will clear the House, the lawmaker said.
Over the weekend, President Donald Trump remained off stage as lawmakers shuttled back and forth to try to reach an agreement.
"The fundamental obstacle here, and perhaps it's insuperable, is the president is AWOL," Blumenthal told MSNBC Monday. "He has to lead or get out of the way. And that absence of leadership is really one of the key barriers we have to compromise."
Trump did make some phone calls on Sunday, speaking with the second-ranking Republican leaders in both chambers of Congress about the impasse, White House press secretary Sarah Huckabee Sanders said in a statement emailed to reporters Sunday.
"The president has been engaged," Sanders told ABC Monday. She said that while he hadn't convened a bipartisan meeting of lawmakers over the weekend, he did have meetings internally with staff. "Different circumstances call for a different type of leadership."

White House legislative director Marc Short expressed frustration late Sunday that the shutdown would carry into a third day, and reiterated the White House would not negotiate on immigration while the government remains closed.
"We have yet another day of our troops not getting funded, border agents not getting funded, children not getting insurance, so we are anxious to reopen the government, and as soon as we do we are happy to reopen negotiation on DACA and immigration," he told reporters on Capitol Hill. "But we are not going to have those negotiations as long as Democrats shut down the government."
On Capitol Hill, the main action came from a group of bipartisan senators, including Graham, who said they were coalescing behind a plan to fund the government through Feb. 8 along with a commitment to quickly take up immigration legislation to protect some young undocumented immigrants from deportation.
Democrats and some Republicans want language protecting people in the Deferred Action for Childhood Arrivals, or DACA, program, as part of a must-pass spending bill to ensure they get signed into law. Some Republicans have opposed such a move, calling it amnesty. 
Trump decided in September to end an Obama-era initiative that shielded them from deportation, effective in March, although he said Congress should act to protect them. The U.S. counts 690,000 people currently enrolled in DACA.
For many Democrats, McConnell's vague promise to hold an immigration vote likely won't be enough to persuade them to vote to end the shutdown.
"There've been a lot of promises to different senators that have not been followed through on by the majority leader, so I would be very leery of anything that wasn't extremely, extremely clear and detailed about a commitment," said Senator Jeff Merkley, an Oregon Democrat.
Making Calls
The White House blamed Schumer for the standoff, and said the Trump administration would not discuss immigration legislation until funding for the government was secured.
"The President's position is clear: We will not negotiate on the status of unlawful immigrants while Senator Schumer and the Democrats hold the government for millions of Americans and our troops hostage," Sanders said Sunday.
Trump, who could give Republicans political cover to vote for immigration legislation, has been giving conflicting signals. Trump said White House staff were demanding $33 billion for border security when Trump said last week he could make a deal for less than $18 billion.
Graham told reporters on Sunday that Trump's "heart is right on this issue" but said "every time we have a proposal it is yanked back by staff members." The White House in turn attacked Graham, who had been cultivating Trump as an ally, illustrating high tensions over the issue and the difficulty of finding a way out.
Graham is "an outlier" and supports legislation "that sides with people in this country illegally and unlawfully instead of our own American citizens," said White House Deputy Press Secretary Hogan Gidley.
— With assistance by Sahil Kapur, Billy House, Jennifer Epstein, Kasia Klimasinska, Hayley Warren, Toluse Olorunnipa, Steven T. Dennis, and Erik Wasson
Before it's here, it's on the Bloomberg Terminal.
LEARN MORE