Google Figures Out How to Make People Care About Art: Selfies
By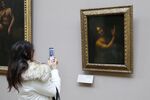 Internet users started doing something strange last week: posting selfies accompanied by famous works of art. It all sprang from the sudden popularity of something called the Google Arts & Culture app, which introduced a new feature that uses facial recognition to match a person's likeness to a renowned painting that hangs in a museum around the world.
The Google art app is actually a few years old. But the "Search with your selfie" feature, introduced in December, started catching on about a week ago, thanks in part to a BuzzFeed article and some old-fashioned internet virality. There was a nice irony to the rapid spread of art selfies across the web. Just as Facebook was pledging to move away from gaudy videos and streams of suffocating political commentary, here was Google coming to the rescue, giving everyone a reason to start posting pictures of themselves again.

Google's art project got its start in 2011, as the side venture of an Android marketer named Amit Sood, who was devoting his "20 percent time" at the company to exploring how to make art more accessible online. Sood grew up in Mumbai, where he says people reflexively thought of art "as a posh experience, and not something that was for me or for my people." He wanted to change that.
Sood initially approached 17 museums about collaborating on the project and later combined it with similar efforts inside Google. His group developed a robotic art camera that allows museums to make highly detailed images of their works and eventually enlisted over 1,500 museums in more than 70 countries. Two years ago, it introduced the smartphone app, which provides access to museums' online collections, virtual reality tours and guides to artwork along particular themes, like black history and culture.
The app was decently popular, but Sood says he knew it wasn't exactly enrapturing users. "Everyone said, 'This is great, but …'" he recalls. The challenge was to be not just educational but "simple and fun for people who are intimidated about even entering the art world."
Then in 2016, Sood gave a presentation about the Google Arts & Culture project at the TED conference in Vancouver. His co-presenter, the French digital interaction artist Cyril Diagne, asked if he had ever thought of integrating selfies into the project. "Selfies are a bit narcissistic," Sood recalls replying at first. "I just didn't see the connection immediately."
Nevertheless, the pair included a nice gimmick in their presentation that they called the "portrait matcher," automatically synchronizing the orientation of Diagne's head with portraits in Google's art database that exhibited similar posture. The TED audience loved it. Google engineers spent the next 20 months working on a more sophisticated version of the idea, using facial recognition software to compare characteristics of a user's visage with similar ones in the portraits of Google's art database.
When they released the tool in December, Sood says he didn't expect much to come from it. Well, last week the app zoomed to No. 1 on the Android and iOS app stores, and people used it to take more than 40 million selfies. Celebrities like Kristen Bell, Ryan Seacrest, Kumail Nanjiani and Jack Dorsey posted their art doppelgangers. Actress Minnie Driver joked about nailing a 100 percent match with Edvard Munch's "The Scream." One woman was matched with a portrait of her own grandmother.
When I talked to Sood last Friday, he was exhausted from racing to roll out the feature in Canada, New Zealand and India, and was looking for broader lessons in his unexpected viral sensation.
"You need to find simple ways to get people interested in art," he says. "The people who are already committed to learning about art are going to take the time to come to your museums, to learn the academic articles. They are going to do it anyway. But that is a tiny part of the population. If you want to reach people like me, or at least how I used to be before, you have to find a reason for them to want to engage."
This article also ran in Bloomberg Technology's Fully Charged newsletter. Sign up here.
And here's what you need to know in global technology news
Get ready for Amazon's cashier-less convenience store. Amazon Go is set to open today in Seattle. This could be the future of retail, but our very own Spencer Soper is heartbroken over the absence of chili cheese dogs.
Twitter's COO is in the running for SoFi chief. Anthony Noto is among the finalists to take over the fast-growing online lender whose founder was ousted last fall.
To ICO or not to ICO? Startups around the world must weigh whether to raise money from venture capitalists or exploit the ebullience for so-called initial coin offerings.
The blockchain could be more important than Bitcoin. In the New York Times Magazine, writer Steven Johnson explains the real value underlying the Bitcoin bubble.
Before it's here, it's on the Bloomberg Terminal.
LEARN MORE