politics
Federal Shutdown Seen as Blip, Not Bust, for Robust U.S. Economy
By
Some data releases may be delayed if federal closure is long

Short disruptions unlikely to derail Fed's tightening plans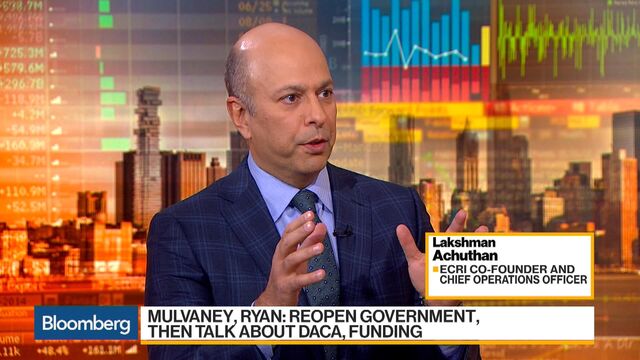 The U.S. government shutdown may slow the nation's economy a little bit, but economists largely agree there won't be serious harm as long as the political stalemate ends soon.
Heading into its first business day, the idling of all but essential federal workers and some services comes amid a tight labor market, a soaring stock market and possibly the strongest three quarters of growth in more than a decade. The disruptions shouldn't cloud the picture too much for Federal Reserve officials who are trying to gauge whether to continue raising interest rates.
A shutdown that lasts a week and puts 850,000 federal workers on furlough would reduce U.S. economic growth in the quarter by about 0.1 percentage point, said Nancy Vanden Houten of Oxford Economics. Goldman Sachs Group Inc., in a note on Jan. 18, estimated the drag on GDP at 0.2 percentage point a week, though the effects "would be reversed the next quarter."
What Our Economists Say
"The history of U.S. government shutdowns over the last several decades suggests that the furlough of nonessential personnel and curtailment of agency activities could shave a few tenths of a percentage point from GDP growth in a given quarter if a funding gap lasts for several weeks. A shutdown for a few days to a week is unlikely to have a sizable impact."

-- Yelena Shulyatyeva, Bloomberg Economics 
Michael Feroli, chief U.S. economist for JPMorgan Chase & Co., said in a recent note that first-quarter real annualized GDP growth would be trimmed by 0.12 percentage point each week until operations resume. Still, the closure "should have no effect on Fed policy" and a meeting later this month of the policy-setting Federal Open Market Committee is likely to be a "non-event," Feroli wrote.
While the economic damage may be minimal, the release of some economic data may be delayed. For example, the Commerce Department's quarterly figures on gross domestic product for the fourth quarter are due to be released Friday. That report is expected to show GDP grew 3 percent in the final three months of the year, according to the median estimate in a Bloomberg survey of economists.
Data Releases
During the 2013 shutdown, the Labor Department's monthly employment report for September was delayed by 18 days, while the release of October figures was pushed back a week. Commerce Department data were also postponed, including retail sales and housing starts, along with industrial-production figures from the Fed.
Read more: What happened to U.S. economic releases last time
Payrolls data, since revised, shows 214,000 private-sector jobs created in October of that year, following a gain of 184,000 in September 2013.
The federal government accounts for 6.5 percent of GDP.
Any conclusive reading on the fallout will also take time to emerge: federal government spending in the fourth quarter of 2013 was initially estimated to have dropped 12.6 percent, but subsequent revisions reduced that decline to a much smaller 5.8 percent drop.
Still, if the shutdown turns from a short-term event to a longer one that inhibits consumer spending and business investment, then all bets on this being just an economic blip are off. The U.S.'s credit rating was downgraded from AAA by Standard & Poor's in 2011, in part because of concern that the political system had become harmfully gridlocked.
Before it's here, it's on the Bloomberg Terminal.
LEARN MORE