politics
Shutdown Starts Amid Blame Game as Trump Marks First Year
By , , and
Government funding ended at midnight Friday without a deal

Senate, House hold rare Saturday sessions to seek agreement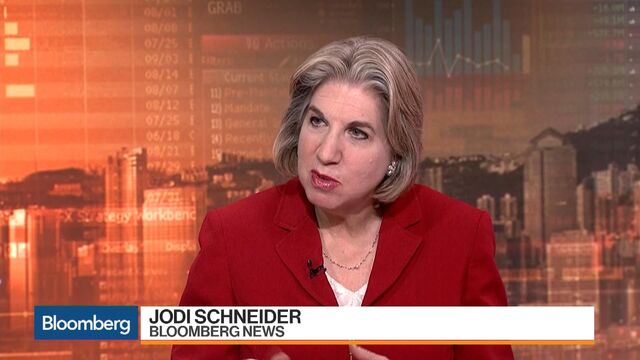 The U.S. government began a partial shutdown on Saturday as finger-pointing intensified on both sides and members of Congress explored whether there was any hope of bringing it to a quick end.
The shutdown began a year to the day after Donald Trump was inaugurated, and the president was typically defiant. "This is the One Year Anniversary of my Presidency and the Democrats wanted to give me a nice present," he wrote on Twitter.
House members were told to be available for votes in case a spending agreement was reached in the Senate, which planned to begin its session at noon.
"Despite controlling the House, the Senate and the White House, Republicans were so incompetent, so negligent, that they couldn't get it together to keep government open," House Minority Leader Nancy Pelosi said as the chamber gaveled in for a rare Saturday session.
Late Friday night, as the clock ticked toward midnight, Senate Democrats and a handful of Republicans blocked a government funding bill after the two parties failed to break their deadlock over immigration.
Unwanted Shutdown
Having stumbled into a shutdown few seemed to want, lawmakers in both parties seemed eager to keep it brief. Senate Majority Leader Mitch McConnell offered a compromise that would re-open the government as soon as this weekend, with a new funding cutoff date of Feb. 8. But some Democrats said they wanted a shorter negotiating deadline.
Republican Senator John McCain, at home in Arizona fighting brain cancer, said in a statement, "The hard reality is that all of us share responsibility for this failure." He urged both parties to "put politics aside, come to the table, and compromise."
White House congressional liaison Marc Short met with lawmakers at the Capitol on Saturday morning. He said Trump had spoken with McConnell and would be contacting congressional leaders throughout the day.
The president had planned to attend a lavish party Saturday night at his Mar-a-Lago estate in Florida -- with tickets going for at least $100,000 a couple -- to celebrate the anniversary of his inauguration. But White House Budget Director Mick Mulvaney said Friday, "the president's been clear he's not leaving until this is finished."
Also on Saturday, women held marches protesting Trump's presidency in Washington, Dallas, Denver and other cities, in a smaller version of the massive demonstrations a day after his inauguration last year.
Your Questions Answered on Government Shutdown: QuickTake Q&A
The White House and federal agencies spent Friday mapping out the government closure, with the goal of as little disruption as possible. Mail will continue to be delivered; airport control towers will be staffed; and the Interior Department hopes to keep the national parks open.
Financial markets have shrugged off days of shutdown drama in Washington. U.S. stocks rose to all-time highs after a report that regulators are close to further easing banking rules. All major equity indexes gained Friday and the benchmark S&P 500 rose 0.4 percent to a record close of 2,810.31.
Shutdown Is One More Sideshow for Investors Used to Histrionics
The House had agreed earlier to fund the government through Feb. 16, but the bill was blocked in the Senate Friday night, despite leaving the vote open for a full two hours, in the face of mostly unified Democratic opposition. Four Republican Senators -- Lindsey Graham of South Carolina, Jeff Flake of Arizona, Rand Paul of Kentucky and Mike Lee of Utah -- voted against moving forward with House bill, though for different reasons.
"What we've just witnessed on the floor was a cynical decision by Senate Democrats to shove aside millions of Americans for the sake of irresponsible political games," McConnell said after the voting was finished.
Graham urged senators in a statement Saturday morning to agree to McConnell's three-week funding proposal in return for a commitment for a Senate debate on immigration, with an "open" amendment process, starting on Feb. 8. He said that "is the key to ending the government shutdown and finding resolution on all the outstanding issues."
'Don't Give In'
"No," said Republican Representative Mo Brooks of Alabama, a member of the conservative House Freedom Caucus, to the open amendment idea discussed by Graham. "Because you don't give in to extortion," Brooks said.

White House press secretary Sarah Huckabee Sanders had said in a statement Friday night that the administration "will not negotiate the status of unlawful immigrants while Democrats hold our lawful citizens hostage over their reckless demands."
Second-ranking Senate Democrat Dick Durbin of Illinois told House Democrats in a private meeting Saturday that a call from House Speaker Paul Ryan to McConnell killed momentum in the talks Friday night, according to Democratic Representative Gerry Connolly of Virginia.
"In that conversation Ryan told McConnell, whatever you do, do not discuss immigration in the context of funding government," said Connolly of what Durbin recounted. "And that was the end of that."
Democrats want legislation to protect undocumented immigrants brought to the U.S. as children, and Republicans are setting conditions for border security and enforcement.
Border Wall
Schumer said after the vote that when he met with Trump at the White House earlier Friday, "I reluctantly put the border wall on the table for discussion." He said they appeared to have reached the "outline of a deal" on issues including immigration and health care. Instead, he said, Trump folded when he got pushback from Republicans.
"He backed off at the first sign of pressure," Schumer said on the Senate floor.
Schumer blamed the standoff on Trump's inability to set a clear path and the failure of Republican congressional leaders to deliver on immigration. He said the president is the "single driving force in scuttling bipartisan deals in Congress."
Members of Trump's administration, including Chief of Staff John Kelly and Homeland Security Secretary Kirstjen Nielsen, have been shuttling between meetings at the Capitol where members of both parties have been working on a getting a deal.
Party-Line Vote
Democrats have demanded that Congress act now to protect the young undocumented immigrants who are shielded under the Obama-era Deferred Action for Childhood Arrivals program, or DACA, which Trump plans to end on March 5. Republicans want to pair that issue with stronger border security and restrictions on other immigration programs.
The House earlier voted 230-197 largely along party lines to pass a bill that would have continued government financing at current levels until Feb. 16. It included a six-year extension of funding for the Children's Health Insurance Program and a delay in implementation of three taxes imposed by the Obama-era Affordable Care Act.
— With assistance by Sahil Kapur, Anna Edgerton, Steven T. Dennis, and Erik Wasson
(
Updates with Short in eighth paragraph, report on Ryan in 18th paragraph.
)
Before it's here, it's on the Bloomberg Terminal.
LEARN MORE