markets
U.S. Housing Starts Fall More Than Expected, Permits Steady
By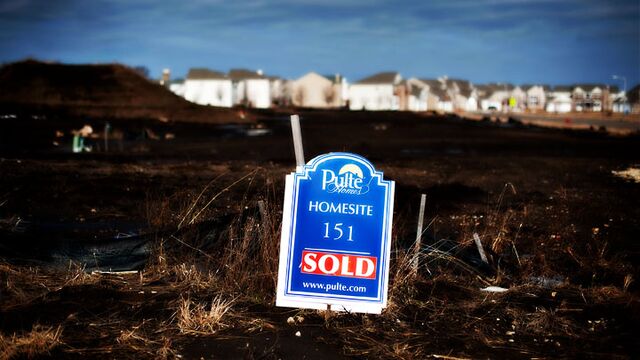 Groundbreaking on new U.S. homes eased from the fastest pace in 13 months while permits held steady to finish the strongest year for housing construction in a decade, government figures showed Thursday.
Highlights of Housing Starts (December)
Residential starts fell 8.2% to a 1.19m annualized rate (est. 1.28m) after 1.3m pace in prior month; biggest drop since Nov. 2016
Single-family home starts fell 11.8% to 836k; multifamily rose 1.4% to 356k
Permits, a proxy for future construction of all types of homes, fell 0.1% to 1.302m rate (est. 1.295m) from 1.303m pace
Applications to build single-family homes rose to an 881k annual rate, the fastest since August 2007, from 865k
Key Takeaways

The decline in starts suggests that November's jump in home construction was more of a temporary spike than an increase in the underlying pace of growth. It could also reflect weather effects.
At the same time, annual totals for permits, starts and completions were all the highest since 2007. A separate report on Wednesday showed homebuilders' confidence in January at the second-highest level since 2005. More construction would help ease an inventory crunch that the National Association of Realtors have flagged as an impediment to more sales.

The level of permits indicates construction should pick up, putting further pressure on the labor market, where builders are already facing a smaller pool of skilled workers. At the same time, last month's tax-cut legislation that curbed deductions for mortgage interest and property taxes could weigh on housing in some states.
The latest results also indicate the contribution of residential construction spending to fourth-quarter growth may be smaller than previously anticipated.
What Our Economists Say
Despite a sharp correction, housing starts are back to pre-hurricane levels and the December reading is just a bit shy of the cyclical peak. Therefore, while the 8.2 percent drop in the month looks dramatic, it is just nothing more than a sign of normalization after a surge in October-November. Housing starts and permits data were roiled by hurricanes and post-storm rebuilding in recent months. Bloomberg Economics projects a solid rebound in residential investment in the fourth quarter of 2017 following a decline in the third quarter.

-- Yelena Shulyatyeva, Bloomberg Economics
Other Details

All four regions posted a monthly decline in starts, led by a 14.2 percent drop in South, 4.3 percent in Northeast
Report shows wide margin of error, with a 90 percent chance that the December figure was between a 15.9 percent and 0.5 percent drop
Report released jointly by the Census Bureau and Department of Housing and Urban Development in Washington
— With assistance by Chris Middleton
(
Updates with single-family permits in Highlights section.
)
Before it's here, it's on the Bloomberg Terminal.
LEARN MORE